News
Details

Category: FIFA
Published on Wednesday, 06 March 2013 11:51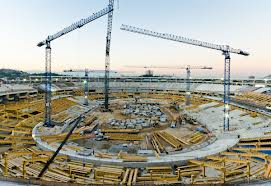 By Andrew Warshaw
March 6 - Brazil's World Cup preparations - or lack of them - have once again been called into question by FIFA, with Rio's iconic Maracana stadium the biggest worry.
FIFA general secretary Jerome Valcke, on yet another fact-finding trip to Brazil, has once again expressed his concern about the Maracana being ready on time.
The revamped stadium is still without a roof as workers battle to finish construction ahead of FIFA's April 15 deadline for the Confederations Cup two months later. The Maracana is scheduled to stage three Confederations Cup matches including the final.
FIFA originally gave the World Cup warm-up event's six venues a December deadline to complete refurbishment work, then extended that twice. But only Fortaleza's Castelao and Belo Horizonte's Mineirao are reportedly ready.
"The city which I will be visiting in two days is the one that worries me the most," Valcke said during a tour of Recife's Arena Pernambuco.
Rebuilding work at the Maracana, built for the 1950 World Cup, started in 2010 at a cost of 900 million Reais ($457 million). It is due to re-open with a prestige friendly between Brazil and England on June 2.
Brazilian Football Confederation (CBF) technical director Virgilio Elisio admitted he too was worried about the pace of progress at the Maracana which is scheduled to host the World Cup final.
Valcke was due in Rio on Thursday, where an inspection of the Maracana will be followed by a board meeting with the local 2014 World Cup organising committee. "The date of completion is very important so we can test them before the start (of the Confederations Cup)," Valcke said. "May is too late and that could cause a lot of trouble for FIFA, for the World Cup and for Brazil."
Contact the writer of this story at This email address is being protected from spambots. You need JavaScript enabled to view it.