News
Details

Category: FIFA
Published on Wednesday, 06 March 2013 12:22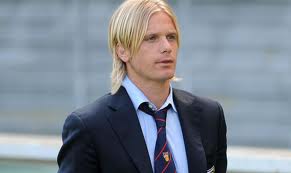 By Tom Parsons
March 6 - FIFA ambassador for fair play Simone Farina has admitted he has "no regrets" in refusing to take a bribe during a Coppa Italia match in 2011 and says "we must protect this beautiful sport with all means necessary".
Farina, speaking at an Interpol workshop in Austria, lifted the lid on match-fixing in Italy resulting in 17 arrests a month after he was approached by a former team mate to "fix" a cup match he would be involved in.
His career subsided subsequently however, with him being released by Gubbio the same year and unable to find another club in Italy willing to employ him in 2012.
The Interpol workshop, attended by Farina and FIFA's Director of Security Ralf Mutschke, focussed on educational and preventional work in the important areas of match fixing and corruption in football - two areas in which FIFA presently is clamping down on heavily across the globe.
Farina's life has changed dramatically since his disclosure and he admits he faced "difficult moments, and so did my family" but he would never have wanted to "carry such a burden on my shoulders" by being part of a match fixing scandal.
His disappointments lie with the "lack of responsiveness by many, even by my football club... I wish that in such an arduous situation I had been given the moral support that at the time was vital to me"
Farina has since been appointed as a community coach at Aston Villa, and admits that his "career definitely changed and a lot happened since I made my report", however he hails the positive impact it had on him as a person with his new found roles as an ambassador and a coach.
"Match fixing is not limited to one or two countries. It is a problem affecting the whole world and no-one should feel excluded or isolated. Only working together shall we be able to find a solution," said Farina.
"Today I can say that all that happened has had a very positive impact: I am a coach and I train young children. And this is marvellous: they give me so much and this experience is truly enriching. I feel truly blessed," he said.
Contact the writer of this story at This email address is being protected from spambots. You need JavaScript enabled to view it.