News
Details

Category: FIFA
Published on Thursday, 25 April 2013 14:23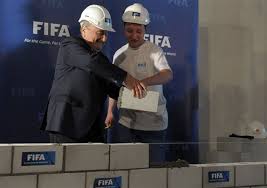 April 25 - FIFA is launching a museum in its home city of Zurich designed to be a meeting place for the entire football family including fans, clubs and sponsors.
Due to open in the spring of 2015, the museum will be sited not at FIFA headquarters, as originally planned, but in the city to give it its own profile.
"It may still be a building site, but soon this will be a true meeting place for football and its millions of fans from all over the world," said FIFA president Sepp Blatter.
The owners of the building are property company Swiss Life who hope the centre will enhance the area's cultural attraction. Located in the 'Haus zur Enge' in Zurich-Enge, the museum is expected to open in April/May 2015.
Plans for the museum include a Hall of Fame, 3D displays and interactive games as well as a collection of trophies and shirts to captivate fans from all over the world. Various exhibitions will focus on FIFA's social responsibility programmes, as well as on the promotion and development of football, fair play and the Football for Hope programme.
FIFA say the museum will not only be a place to store and display memorabilia, but also a vibrant meeting place and discussion forum for all members of the football family, including fans, clubs, associations, friends and suppliers, partners and sponsors.
Award ceremonies, autograph sessions and media conferences will also be staged there.
Contact the writer of this story at This email address is being protected from spambots. You need JavaScript enabled to view it.