News
Details

Category: FIFA
Published on Thursday, 16 May 2013 09:05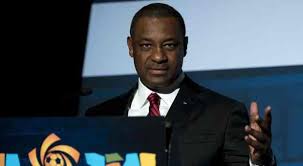 By Andrew Warshaw
May 16 - Jeffrey Webb, chairman of Fifa's recently established Anti-Racism and Discrimination Task Force, has issued his own scathing indictment of the Italian authorities for only fining Roma over last weekend's racist abuse by their fans towards three Milan players.
Play was briefly stopped early in the second half at the San Siro by the referee and warnings broadcast over the public address system before the game resumed.
Following FIFA President Sepp Blatter denouncing the imposition of a mere €50,000 fine and bemoaning the fact that "lessons have not been learned", Webb, a FIFA vice-president and head of CONCACAF, was quick to also attack the paltry sanction for what was the first publicised incident of football racism since he was appointed to run the new body that will report to FIFA's Congress in Mauritius later this month.
"As stated by FIFA President Joseph Blatter, the decision of the Italian Football Federation's Disciplinary Committee to impose only a €50,000 fine on Roma for the racist actions of its supporters during a match at AC Milan on Sunday, without further investigation, is completely unacceptable," Webb said in a statement.
"This incident is a clear example of the issue the Anti-Racism and Discrimination Task Force has at hand. It also reinforces the imperative responsibility FIFA, the Confederations and each of its 209 Member Associations have in implementing strong resolutions to support football's zero tolerance policy and strengthen FIFA's fight against racism and discrimination."
"The resolutions before the FIFA Congress on May 31 will mark an important step towards eradicating these intolerable acts of violence from our fields."
Contact the writer of this story at This email address is being protected from spambots. You need JavaScript enabled to view it.