News
Details

Category: FIFA
Published on Thursday, 20 June 2013 14:30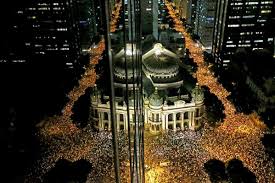 By Andrew Warshaw
June 20 - As a wave of social unrest continues to sweep through Brazil, FIFA President Sepp Blatter has urged the public to stop using football as a means of expressing their anger and says they can only benefit from the tournament returning to the country next year for the first time in over half a century.
The protests, timed to co-incide with the ongoing Confederations Cup, has cast a shadow over the World Cup dry run event that has produced several exhilarating games in full stadia.
Demonstrators have been venting their anger over the R$30 billion ($3.3 billion) being spent on infrastructure projects, including football and Olympic stadia, rather than spending on much needed social structure projects like health and education. Protests in Rio were sparked first by a rise in bus prices, which although a small price increase, was enough to mobilise a growing feeling of unrest and anger with politicians over allegations of corruption and abuse of power.
But Blatter says the protestors should look at the bigger picture in terms of the investment being made and the benefits they will bring.
"Brazil asked to host the World Cup, we did not impose the World Cup on Brazil," said Blatter in interviews with Rio's O Globo newspaper and Globo TV network. "They knew that to host a good World Cup they would naturally have to build stadiums.
"But we said that it was not just for the World Cup. Together with the stadiums there are other constructions: highways, hotels, airports ... items that are for the future. Not just for the World Cup. In football, the whole country gets the legacy."
According to agency reports, in the northern city of Fortaleza on Wednesday, protesters blocked the main access road to the stadium hosting Brazil's game against Mexico, forcing official FIFA vehicles to be diverted away from the Arena Castelao.
The infrastructure spend has prompted the most significant demonstrations since the end of Brazil's military dictatorship over a generation ago.
Thousands are expected to take to the streets of Rio de Janeiro again on Thursday outside the Maracana stadium before Spain plays Tahiti. Protestors marching to the Maracana on Sunday were blocked by police before they reached the stadium. In Brasilia, police fired tear gas at protesters who tried to gatecrash Brazil's opening game and have also clashed with demonstrators near the Mineirao arena in Belo Horizonte.
But Blatter said they should not be targeting the traditional World Cup warm-up tournament. "They (the protestors) are linking them (the protests) to the Confederations Cup. I can understand that people are not happy, but they should not use football to make their demands heard.''
The Confederations Cup organising committee has no worries about fans entering the Maracana on Thursday but is concerned about what happens afterwards. Whether television viewers will have access to the demonstrations remains unclear. "We are focusing on the players and the main actors of the game,'' Niclas Ericson, FIFA's director of television, was quoted as saying.
At the Confederations Cup opener between Brazil and Japan last Saturday, Blatter and Brazilian President Dilma Rousseff were booed when their names were introduced at the National Stadium in Brasilia.
"They could jeer FIFA's president - I don't care, because people could like or dislike the FIFA president,'' Blatter said. "But the chief-of-state was there and I asked for a little bit of respect and a clean game. For her not me.''
"I can understand that people are unhappy," Blatter added. "But football is here to unite people. Football is here to build bridges, to generate excitement, to bring hope."
Even Pele has called on the protestors to focus on football. "Let's forget all this commotion, all these protests, and let's remember how the Brazilian squad is our country and our blood," Pele said in a brief broadcast via the O Globo TV network, which was also posted online.
Brazilian players have lent their support to the demonstrators. "After seeing the people on the streets claiming for improvements, it makes me feel like joining them," Brazil striker Hulk said. "They are doing the right thing, what they are saying makes sense and we have to hear them. Brazil needs to improve, we all know that."
"The people have the right to express their opinions and to protest when they are not happy with what is happening in their country," said Chelsea's Brazil defender David Luiz. "That's the only way to call attention to what is wrong. I don't live in Brazil, but I love my country. The Brazilians love their country and that's why these protests are happening.The only thing we won't support is violence. I'm in favour of the right to express your opinion, but only if it's done peacefully."
Former Brazilian icon Juninho suggested that Brazilian players should sing the national anthem with their backs turned to the national flag while supporters in the ground were encouraged on social media sites to turn their backs to the pitch when the anthem was played. There was also a Facebook campaign calling for a million people on the streets to protest. None of these happened before Brazil's match with Mexico on Wednesday.
Contact the writer of this story at This email address is being protected from spambots. You need JavaScript enabled to view it.