News
Details

Category: FIFA
Published on Monday, 01 July 2013 12:17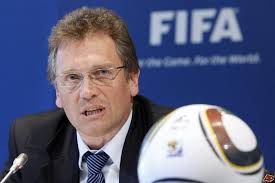 By Andrew Warshaw, chief correspondent
July 1 - FIFA secretary general Jerome Valcke has accused UEFA of "opportunism and irresponsibility" after Europe's governing body denounced FIFA for asking World Cup hosts to fork out a fortune on infrastructure to the detriment of more important social needs.


"It's irresponsible to make such declarations and to use the demonstrations in Brazil to justify a decision to organise a competition like the Euro 2020 in more than one country," said Valcke after FIFA was asked by Insideworldfootball for a reaction to a senior UEFA official's comments that FIFA should re-think single-nation hosting.
"This is sheer opportunism. When UEFA decided to increase the Euros to 24 teams, they knew there were not many countries who could host. If you take out the big five (countries) in Europe, you are in trouble with 24 teams."Last week, UEFA admitted for the first time that because of the savage economic climate, the Euro 2020 finals may not be the last to be taken to multiple venues - and said FIFA should also consider ditching single-nation tournaments because of the huge spend involved.
A senior UEFA official, saying he was speaking for the confederation, said the mass demonstrations that have been sweeping through Brazil proved that single-nation hosting was too great a burden on the population and that it was "absurd in this day and age to ask for huge capital investment for a tournament that lasts three weeks and leaves no legacy. There are things that cannot be done any more in the 21st century. You cannot ask for scant resources to be used just for entertainment. It's unacceptable."
The comments caused widespread irritation among the FIFA hierarchy, forcing Valcke to hit back and defend FIFA's position, placing the ball firmly back in UEFA's court in what has become the latest verbal spat between the two increasingly divided bodies.
Valcke said it was unrealistic and unfair to compare the two tournaments in terms of their geographical spread and implied UEFA were not looking at the bigger picture.
"We are not talking about the same dimension when you talk about the FIFA World Cup compared to the Euros," said Valcke. "We organise the event in different continents and with participants from all over the world. In Brazil, just like in South Africa, there is a principle to use the World Cup as a catalyst to change the face of the country. There is not a single country organising the World Cup that doesn't think what it means in broader terms. No one just comes forward and organises it for the sake of the experience."
Valcke has been plagued with organisational issues in his role as chief World Cup trouble-shooter. But, he said, the protests that took place were no different to other major events that are often targeted to express public disquiet.
"The Confederations Cup was used just like the world economic forum in Davos or the G8 or G20 summits, in other words as platforms for protests. Whatever event would have taken place in Brazil, maybe with exception of a papal visit, these demos would have happened. It is not directly linked with the organisation of the Confederations Cup. It just fits within the situation of the people wanting to express their needs."
UEFA argue that FIFA must take some of the responsibility for the gigantic infrastructure that is invariably put in place for the World Cup. But Valcke denied suggestions, for instance, that South Africa had been left with a spate of white elephants and no tangible legacy after staging the tournament in 2010.
"In South Africa, when people talk about some stadiums being white elephants, they totally forget the investment the government made in terms of telecommunications. It's the same with transport and road construction. A number of things have changed the day to day life of South Africans."
"It is simply not true that the World Cup is taking away public money that could be used for other things. No-one organises the World Cup today just as a stand-alone investment. If you increase the level of roads, health, public transport, hotels, that doesn't just disappear afterwards. In Brazil it's part of an overall development programme of the Brazilian government that goes far beyond the World Cup."
Valcke insisted that both FIFA and the Brazilian authorities had got their priorities right. "Based on surveys conducted during the demonstration period in Brazil, the FIFA World Cup comes in eighth position after things like health, transport, education and corruption," he said. "The World Cup is simply part of a bigger plan to develop the country in the next 20 years."
And the fact that Confederations Cup matches were almost all sellouts proved, he added, that there was a bedrock of public support among Brazilians for major sports events. "Yes there have been thousands of people in the streets but don't forget more than 800,000 tickets were sold, and not to foreigners: 97% were bought by Brazilian people."
Contact the writer of this story at This email address is being protected from spambots. You need JavaScript enabled to view it.