News
Details

Category: FIFA
Published on Wednesday, 21 August 2013 11:26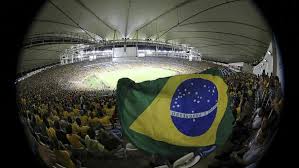 By Paul Nicholson
August 21 - FIFA put more than one million Brazil 2014 match tickets on internet sale at 7am Brasilia time yesterday, with the governing body saying that more than a million tickets had been requested by more than 163,000 applicants in the first seven hours.
The first round of ticket sales accounts for about a third of the total tickets available - the ticketing site for this first phase will be open for applications until October 1. Tickets will then be allocated via a ballot.
Included in the first round of sales are 300,000 category 4 tickets only available to Brazilians who are "over 60 years old, students and recipients of the Bolsa Familia family grant", said the FIFA website. These tickets cost between $15 and $82.50, and are available only to Brazilians.
The tickets for the other three categories are on general international sale (as well as local) and cost considerably more. The most popular tickets for the opening game in the Sao Paulo arena on June 12 will cost between $220 and $495, while those for the final in Rio at the Maracana on July 13 will cost between $440 and $990.
FIFA said the biggest demand so far came from Brazil, Argentina, the US,
Chile and England.
The World Cup will take place across 12 cities with around 600,000 foreign
fans expected to attend the tournament. FIFA marketing director Thierry Weil said: "Speaking about predictions and expectations for sales is always complicated.
"Personally, I imagine we will face demand similar to that seen in Germany in 2006, when there were, on average, seven applicants for each ticket. But each situation is very specific. In South Africa in 2010, for instance, we sold 1.9 million tickets but the bulk of those were sold during the tournament, just before games, as culturally that's how tickets are bought there."
Local distribution of tickets was a FIFA concern during and following the Confederations Cup in July and Weil says that as a result FIFA will open more Ticket Distribution Centres. "These centres will also be open earlier. The plan is to have them working by 15 April, with the Brazilian population in mind first and foremost. Fans will be able to choose either to collect tickets at Distribution Centres or have them delivered to their home address, anywhere in the world."
Contact the writer of this story at This email address is being protected from spambots. You need JavaScript enabled to view it.