News
Details

Category: FIFA
Published on Wednesday, 04 September 2013 10:15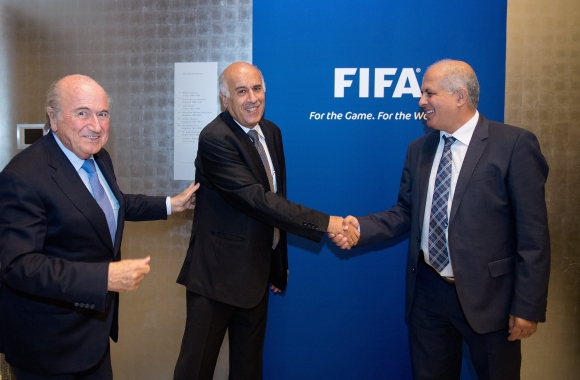 By Andrew Warshaw
September 4 - FIFA president Sepp Blatter has hailed initial talks aimed at easing travel restrictions for Palestinian footballers and breaking that country's deep divisions with Israel as "historic" and hopes to find a permanent solution by the end of the year.
Blatter spoke after what he described as a "lively" first meeting of the special body set up to deal with the issue of freedom of movement of Palestinian players and officials - attended by both Israeli FA chairman Avi Luzon and his Palestinian counterpart Jibril Rajoub at FIFA headquarters in Zurich.
"At the start, I have to say it was very lively, both of the presidents wanted to express a little bit what they had on their heart," Blatter said. "I cannot say any more (about that), but at the end it was trust, confidence and football."
"We have given responsibility to the two associations to work together but we will monitor the different steps (stages)," he said.
"The idea is that, at the end of the year, when we come together at the FIFA executive committee, we will have a solution of how to make it easier for footballers to move in the region.
"We can say today was historic...it was the first time the two presidents spoke with each other. Even when they were at the FIFA Congress, they just looked at each other and moved away."
Palestine, ranked 150th in the world, is starting to host more and more tournaments and accuses Israel's security forces, who control movement between the Gaza Strip and the Israeli-occupied West Bank, of frequently preventing its athletes travelling freely between the two separated territories as well as stopping those from visiting countries from entering the West Bank.
At the FIFA Congress in Mauritius at the end of May, Rajoub called for sanctions against the Israeli FA if the situation did not improve.
Sensitive issues like this take time and key to Tuesday's landmark meeting was an agreement by both parties to send delegates to a follow-up meeting later this month. Meantime, liaison officers will be appointed by each association, with FIFA monitoring the entire process.
Palestine, like Israel, is a full FIFA member, but Blatter was told in no uncertain terms by Israeli Prime Minister Benjamin Netanyahu in July that national security was his country's top priority. Last month teams from Iraq, Jordan and the United Arab Emirates were initially refused visas by Israel for an under-16 tournament hosted by Palestine.
Israel ultimately relented and Blatter now believes there is enough goodwill on both sides to move forward.
"As I am an optimist, at the end of the year we will have found a solution and will present the solution to the political authorities," he said. "Security means also that there shall be solutions that people can come in and go out because Palestine has the right to play in FIFA competitions or Asian competitions."
Neither Luzon nor Rajoub made statements after the session, which was also attended by UEFA President Michel Platini, Asian Confederation President Sheik Salman bin Ibrahim Al Khalifa of Bahrain and FIFA Vice President Prince Ali Bin Al Hussein, president of the Jordanian FA, which will host the next meeting of delegates in Amman.
An interim report will then be submitted to the FIFA executive committee meeting on October 3-4 in Zurich, with another two months before the final exco meeting of the year in December.
"The basic problem is the security problem of Israel and the fact that Palestine is recognised as a full member of FIFA but is not recognised as a full member of the United Nations," said Blatter. "I asked everybody to come together; the solution would be one day that they play football together."
"Already now, Arab players are playing in the Israeli league, Israeli girls are playing in the women's league in Palestine so there is movement. I think this can be extended but it needs a little bit of time."
"The fact that both parties, from Israel and Palestine, agreed to participate in such a Task Force was already a sign of goodwill."
Prince Ali, who is also head of the West Asian Football Federation, said it was now "paramount that all parties respect the separation between football and politics... The complexity of Palestine's political reality today should not hinder the evolution or development of Palestinian football."
Shaikh Salman said the appointment of liaison officers in both associations and setting up a deadline for the application of permits was a key step.
"I hope that both the associations will work towards bilateral solution to this issue and that the AFC will no longer have to face the issue of movement of players and officials to and from Palestine in the future," he said.
Contact the writer of this story at This email address is being protected from spambots. You need JavaScript enabled to view it.