News
Details

Category: FIFA
Published on Wednesday, 04 September 2013 12:29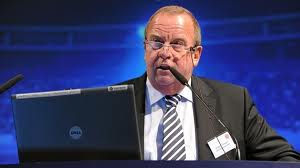 By Andrew Warshaw
September 4 - FIFA's leading medical expert admits he is concerned the decision of the World Anti-Doping Agency (WADA) to revoke the accreditation of the Rio de Janeiro doping control laboratory so close to next year's Brazil World Cup.
From September 25, the lab, known as LADETEC and expected to analyse players' samples for FIFA during the World Cup, will no longer be authorised to carry out any anti-doping activities and Brazil has no other accredited facility.
"This is a problem," Michel D'Hooghe (pictured), head of FIFA's medical committee, told a small group of reporters, including Insideworldfootball. "We look now what WADA will decide. I think there are other possibilities, perhaps Sao Paulo or perhaps an adaptation of the lab in Rio but for the moment, yes, this is a problem for us."
WADA have not explained fully why it has taken the action against the laboratory - suspended for nine months in January 2012 before being re-instated, then suspended again last month for "repeated failures" - except to say it was "due to non-compliance with the International Standard for Laboratories (ISL) and the related technical documents".
"We have to find a solution in Brazil," said D'Hooghe who will discuss the problem at a medical meeting in Zurich on October 1 ahead of the FIFA executive committee session the same week.
FIFA recently intimated that it had yet to formulate an alternative plan for handling World Cup doping tests in the event of the laboratory being unavailable. The only other WADA-accredited laboratory in South America at present is in Colombia, although there are also facilities in Cuba and Mexico.
"I'm never shocked after 42 years in football," d'Hooghe said. "I was a little bit disappointed, but I think you can find a solution."
Contact the writer of this story at This email address is being protected from spambots. You need JavaScript enabled to view it.