News
Details

Category: FIFA
Published on Friday, 06 September 2013 09:22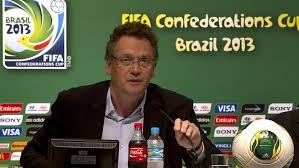 By Andrew Warshaw
September 6 - As the World Cup qualification process moves towards its conclusion, Fifa secretary-general Jerome Valcke insists organisers are "heading in the right directions" despite various ongoing issues inside Brazil, including cost and infastructure.
The draw for next year's finals takes place in December and Valcke used his latest column on FIFA's website to accentuate the positive.
"On the operational side we are heading in the right directions, not only for the FIFA World Cup itself but also with a view beyond 2014," Valcke said.
"Recently, I read in the Brazilian media comments that FIFA is only interested in the stadia. There is no doubt that without the stadia we would not be able to stage the tournament and, as such, it is naturally important for us they are finalised on time."
"But a competition on the scale of a FIFA World Cup could not be organised with a stadium alone. In order to guarantee that fans, teams and media will have a great experience, it requires public transport, airports and accommodation."
FIFA are understandably cautious after the nationwide protests that marred the Confederations Cup earlier this year and Valcke said a sensitive approach would be applied wherever possible.
"For FIFA, it is also important to ensure that the impacts of the staging of a major event on the environment are minimised, and that the socio-economic benefits are maximised," he said.
Ticket sales after nearly three weeks "are coming along impressively", he added with more than 3.6 million applications received so far and almost half a million ticket requests for the final at Maracanã - despite the stadium having a capacity of approximately 73,000.
The 2006 tournament in Germany is still ahead with more than eight million requests in the first sales phase but Valcke said Brazil is on track to surpass this.
Contact the writer of this story at This email address is being protected from spambots. You need JavaScript enabled to view it.