News
Details

Category: FIFA
Published on Friday, 06 September 2013 12:05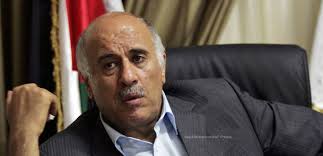 By Andrew Warshaw, chief correspondent
September 6 - Palestine football's leading figurehead has poured scorn on Israel's commitment to easing the plight of his country's players and officials - and says the FIFA initiative to resolve the deep divisions between the two Middle East neighbours will never work unless Israel stops its "bullying" tactics.
Earlier this week, FIFA president Sepp Blatter hailed initial talks aimed at easing travel restrictions for Palestinians in the West Bank and Gaza as "historic" and said he hoped to find a permanent solution by the end of the year.
Blatter spoke after what he described as a "lively" first meeting of the special Task Force set up to find a diplomatic solution - attended by both Israeli FA chairman Avi Luzon and Palestinian FA chief Jibril Rajoub (pictured).
The pair had snubbed each other at this year's FIFA Congress in Mauritius but sat face to face at FIFA headquarters in Zurich alongside the respective leaders of Asian and European football, Sheik Salman bin Ibrahim Al Khalifa of Bahrain and Michel Platini.
Neither Rajoub nor Luzon have made any lengthy public statements since the Zurich talks. But in a strongly-worded interview with Insideworldfootball, Rajoub painted a less than conciliatory picture of the meeting, accusing Israel of "playing games", denouncing their security concerns as "lies" and pledging "never ever" to trust the Israelis until they comply with FIFA statutes by giving Palestinian footballers complete freedom of movement in the occupied territories.
"I always felt going to FIFA was the right course of action to stop Israel causing suffering to Palestinian footballers," said Rajoub. "The meeting was very important because we were able to put our case explaining the obstacles we are facing."
"I welcome FIFA's decision to supervise and mediate but I have never trusted the Israelis and nothing has changed. Luzon just made accusations with no substance. It's not possible to bridge the gap of mistrust quite so easily."
Blatter hopes there will be enough goodwill on both sides to make progress and a follow-up session involving both parties is scheduled to take place in Jordan later this month, with an interim report then being presented to the next FIFA executive committee meeting.
But despite FIFA announcing that both the Israeli and Palestinian federations would be appointing liaison officers, Rajoub says this was in fact rejected by his side.
"I am not ready to have any bilateral engagement with the Israelis as long as they are not ready to accept FIFA's statutes. Never ever ever..."
Rajoub has previously described travel restrictions as a "siege on Palestinian sport" and told Insideworldfootball that even his own movements as head of the Palestinian FA are often subject to "humiliating searches" whenever he travels to and from his base in Ramallah.
Israel counters that it acts as it does for security reasons, citing the number of rocket attacks from Gaza which is controlled by Hamas - committed to Israel's destruction.
But Rajoub insists this is just a ploy.
Using emotion-charged, highly provocative language that reflects the respective entrenched positions on either side, he continued: "The issue of security is just lies and is being used by Israel as an excuse to suffocate the Palestinians.
"To convince us, they have to take practical steps, otherwise what they are saying is just rhetoric. If FIFA can get guarantees from the other side, then yes that would be an historic breakthrough which would have a positive dimension for bilateral relations.
"The ball is in Israel's court to stop their bullying policy and give the other side the same rights. Both associations should be allowed to function independently. There is no compromise. It's up to the Israelis to come up with a permanent strategy. At the moment they are just playing games."
Contact the writer of this story at This email address is being protected from spambots. You need JavaScript enabled to view it.