News
Details

Category: FIFA
Published on Thursday, 12 September 2013 12:20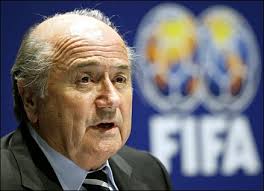 By Paul Nicholson
September 12 - FIFA President Sepp Blatter has further clarified his comments regarding the Qatar 2022 World Cup, first reported in Insideworldfootball. Speaking to reporters at the International Olympic Committee Congress in Buenos Aires he again confirmed the right of Qatar to hold the World Cup in 2022.
With some press having mis-reported the Insideworldfootball interview, Blatter pointed out that the decision to play the tournament in the middle of the year was the mistake, not the selection of Qatar as host.
"I am of the opinion, and this will be discussed by the (FIFA) Executive Board, now that to play in summer time in Qatar is not the right thing to do," he said.
"We can play also in winter time and this is also a question of solidarity. If you never play in winter time the World Cup, you will be in the situation where all the countries around the equator and southern hemisphere... can never play in the winter. Football is a sport that is played not only in Europe but all around the world."
Blatter further emphasised the right of other countries to hold and experience World Cup football, away from the more traditional nations, and that it was time for the event to spread further.
"No, it was not a mistake (to award to Qatar) because by the rotation it was time to go to the Arabic world. And now here we are in the Arab world. It is not a very big country, but it is a very important one. So the decision was absolutely in the context of the politics of FIFA and especially in the context of the politics of this president," he said.
While Blatter is believed not to have voted for Qatar in the 2010 vote for who would host the 2022 World Cup, his support for the tournament going to the region is unequivocal.
Contact the writer of this story at This email address is being protected from spambots. You need JavaScript enabled to view it.