News
Details

Category: FIFA
Published on Monday, 16 September 2013 10:46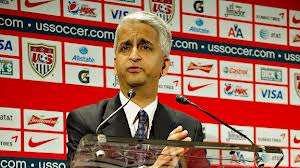 By Andrew Warshaw
September 16 - The United States' most influential football administrator says he will try to block any move by FIFA to switch the Qatar 2022 World Cup to winter. Sunil Gulati, whose country was unexpectedly beaten by the tiny Gulf state to stage the tournament when the vote was taken three years ago, says he will oppose any attempt by FIFA's executive committee to change the dates of the tournament when it meets on October 3 and 4.
FIFA president Sepp Blatter has asked the executive committee to back his call to shift the event from the region's scorching summer heat to a more palatable time of year but Gulati, an exco member and head of the U.S. Soccer Federation, says it is too soon to make a decision – even in principle.
"I don't see at this stage, frankly, how I or any member of FIFA's executive committee could make a sensible decision," Gulati told the New York Times in what he insists will be his last word on the issue until the eagerly awaited Zurich discussions.
"We don't have enough information, and there are too many questions. I don't see how anybody in a position of responsibility can take a position without some answers."
Although Gulati faces strong opposition from the likes of Blatter and UEFA president Michel Platini, he is determined to make a stand.
"If the position I'm taking - which is that we need a lot more information - is rocking the boat," he said, "then I'm going to be rocking the boat."
Just like many European leagues who oppose any switch because of the havoc it would cause with schedules, Gulati says his country would be equally adversely affected if 2022 takes place in winter.
"There is another rather important sport that plays in the United States in the fall," Gulati said. "How does a move affect us trying to promote the game if we're up against the NFL or college football now? That's a reality we have to consider. And it's just one of a hundred things like that which need to be considered."
Gulati didn't address the issue of losing countries seeking legal action if the exco backs Blatter but admitted the failed bid from the United States to host 2022 hurt.
"It was a significant setback, personally and professionally and for our federation," he said. "(But) I am in a different role now. There is a different question now."
Contact the writer of this story at This email address is being protected from spambots. You need JavaScript enabled to view it.