News
Details

Category: FIFA
Published on Monday, 16 September 2013 11:59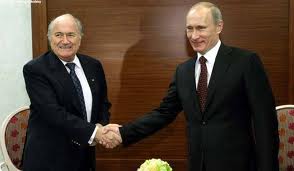 By Mark Baber
September 16 - Russian state-controlled natural gas company Gazprom has officially became a FIFA partner at a ceremony on Saturday at the Black Sea resort of Sochi attended by Russian President Vladimir Putin, FIFA President Sepp Blatter and Gazprom chief executive Aleksei Miller.
The deal will run from 2015 through to 2018, the year Russia hosts the World Cup. At the signing ceremony, Putin had praise for FIFA saying: "We have discussed for a long time, or rather you [Blatter] have discussed with Gazprom, one of our leading companies, how you can work together, not only in the light of World Cup preparations, but generally with FIFA support.
"The work you do is undoubtedly very important. I would even call it noble, because unlike many other associations that simply proclaim nice and well-intentioned goals, you actually work to achieve them and realise them. This has simply no precedent in humanitarian spheres and is of great value."
Blatter was similarly complementary about the role of Gazprom saying: "We are aware of the many humanitarian and social projects that this Russian company has implemented. I am convinced that this is a good partnership that will not only help World Cup preparations, but also serve us well afterwards."
Miller highlighted that under the agreement "we obtain the rights to certain categories of goods: oil, diesel and gas, and the extraction, processing and marketing of these products. We have rights for advertising these products in FIFA stadiums during competitions that will take place over the next four years, from 1 January 2014 to 1 January 2018." The deal allows Gazprom to use the FIFA trademark and the phrase "official FIFA sponsor" in its advertisements.
Both Miller and Russian Sports Minister Vitaly Mutko spoke of new initiatives within the framework of 'Gazprom for Children' with Miller noting that: "I think that first of all we will provide our younger athletes, the younger generation with the opportunity to come in contact with and to see the World Cup."
Contact the writer of this story at This email address is being protected from spambots. You need JavaScript enabled to view it.