News
Details

Category: FIFA
Published on Thursday, 26 September 2013 11:39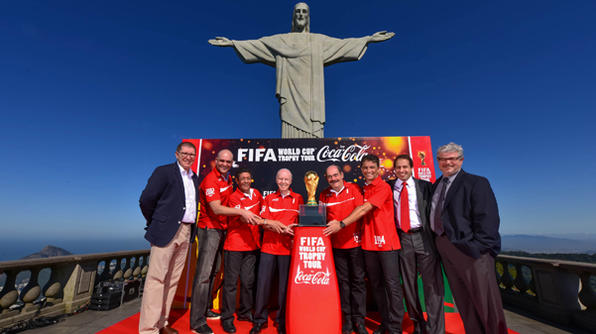 September 26 - Coca-Cola has released the official Coca-Cola anthem for the 2014 FIFA World Cup™ World's Cup campaign.
The World Is Ours by David Correy will be the soundtrack for the 2014 FIFA World Cup Trophy Tour, which started earlier this month at a ceremonial sendoff at the Christ the Redeemer statue in Rio and finishes in Sao Paulo on June 12, 2014 when the opening game kicks off the tournament.
The nine month FIFA World Cup Trophy Tour by Coca-Cola will travel 92,000 miles and to 89 countries, including the first-ever pan-Latin America tour with events in 39 countries, as well as stops in 50 countries that have never hosted the trophy.
In April, the tour will reach an estimated 1 million Brazilians on its final leg through the host nation's 27 capital cities.
The World is Ours anthem is by Brazilian-born artist David Correy, and features Brazilian percussion band Monobloco. The anthem, written by Rock Mafia produced by Mario Caldato Jr. The intention is to bring the music of Brazil to the world, and captures different rhythms of samba, baile funk and technobraga.
David Correy is an interesting story in himself. He emerged on the US music scene in 2012, when he competed on The X-Factor. His performance resulted in a reunion with his birthmother, who was forced to give David up for adoption due to extreme poverty.
Correy says the inspiration behind his music comes from "the sacrifices people had made for him, his love of music and an understanding of its power". Listen to the song and watch the video at http://www.youtube.com/watch?v=L_rRta7MCII
Contact the writer of this story at This email address is being protected from spambots. You need JavaScript enabled to view it.