News
Details

Category: FIFA
Published on Friday, 04 October 2013 08:19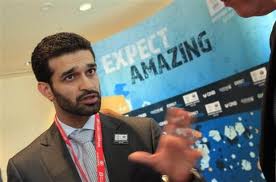 By Andrew Warshaw in Zurich
October 4 - With the hype of the Qatar 'winter or summer' debate reaching fever pitch amongst the world's media, providing a feast of guesswork and mis-interpretation, Qatar 2022 chief Hassan Al Thawadi has re-iterated once again that his country's intensive lobbying campaign to secure the tournament was totally above board and broke none of FIFA's strict bidding rules.
As a decision loomed here in Zurich over whether FIFA President Sepp Blatter's preference to switch the event from the heat of the desert summer would be approved in principle by his executive committee, and concern intensified over Qatar's treatment of migrant workers, Al-Thawadi told Insideworldfootball he had no fears regarding their host nation status and insisted that the tiny Gulf state would put on "an amazing World Cup".
No actual alternative date for 2022 will be announced today at the conclusion of FIFA's two-day executive committee summit but there is growing momentum for a November-December tournament even though that would disrupt virtually every Continent's programme.
Qatar has been under increasing media pressure and public scrutiny, but Al-Thawadi said: "FIFA themselves have confirmed what we have always said: that the World Cup in 2022 will be in Qatar."
FIFA's anti-corruption guru, Michael Garcia, is about to step up his investigation into the bid process, and again al-Thawadi was unequivocal. "We were stringent in complying with the bid registration," he said. "We have not broken any rules. We are very confident of our position."
Turning to the issue of Qatar's migrant workers amid claims that dozens have died in the desert heat during construction work this summer, Al-Thawadi did not deny there was a problem but said improvements were under way to improve safety. "The government every day is gradually putting more and more steps in place. We are moving forward on this matter."
Al-Thawadi, who came to Zurich primarily to give FIFA an update of 2022 preparations as part of the official agenda, said he knew "nothing about" the idea of Qatar formally requesting to switch the timing of the tournament in order to take the decision out of FIFA's hands (http://www.insideworldfootball.com/fifa/13367-exclusive-qatar-may-provide-the-face-saving-no-break-in-platini-s-ranks).
He said he had "no expectations" about the outcome of Friday's meeting but that he would be comfortable with any timetable. "We are ready for anything. Our plans for a summer World Cup are continuing but our legacy commitments are the same whether it's summer or winter."
Speaking to other reporters on the fringes of FIFA headquarters in Zurich, Al-Thawadi continued the theme of human rights. "When it comes to people dying it is not a media issue - it's a humanitarian issue, in the end it's human nature," he said. "Is it acceptable? Nobody accepts it. The statements from the government indicates that. This is not a World Cup being built on the blood of innocents. That is unacceptable to anybody and most definitely to ourselves."
" We want to ensure the safety, health, security and dignity of everybody. That's what we are moving forward to and everybody is on board in terms of that road map and that agenda and is committed to delivering that. It will always be our top priority."
In typically bullish mood, he also revisited the question of Garcia's upcoming visit to all nine bidding candidates for 2018 and 2022, first revealed in France Football magazine. "Provided that the review and the look into this matter is done on a fair, equitable basis, with the principles of rule of law being adhered to, then there's no concern," he said.
"People can continue to sit down and argue and continue to throw suppositions. We have to continue on our path in terms of ensuring we deliver on our promises. That is the one path that we cannot stray from."
Blatter is due to hold a much anticipated press conference following today's exco session at which he is expected to set out what happens next. But FIFA communications chief Walter De Gregorio implied there was simply too much hype around the suggestion that the World Cup could be taken away from Qatar.
"What is open to question is if we play in winter, and if so is it November, December, January, I don't know...but there is no doubt we will play in Qatar," he said.
Contact the writer of this story at This email address is being protected from spambots. You need JavaScript enabled to view it.