News
Details

Category: FIFA
Published on Tuesday, 08 October 2013 13:27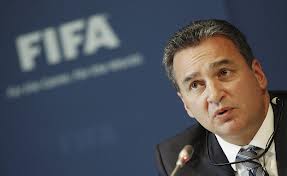 By Andrew Warshaw
October 8 - FIFA's leading corruption buster Michael Garcia has broken his silence over his much-publicised upcoming tour of 2018 and 2022 World Cup bidding countries by warning that anyone who breaks an obligation to co-operate with the investigation could face sanctions.
Garcia, head of the Investigatory side of FIFA's Ethics Committee, is due in London on Wednesday for the first stop on a visit to all the countries involved in the bidding process, designed to establish whether any malpractice took place when the controversial ballot for both World Cups was held three years ago.
Last week, FIFA president Sepp Blatter refused to discuss Garcia's latest mission but constant media speculation about whether he was specifically targeting Qatar for breaking any bidding rules prompted his office to respond.
Although the FIFA Code of Ethics prevents any disclosure about ongoing proceedings "reports and inquiries suggest a need to clarify certain general information," the statement said.
"As has been publicly reported, the Investigatory Chamber continues to investigate the bidding process for the 2018 and 2022 FIFA World Cup events."
"Members of the Investigatory Chamber intend to speak with and request information from representatives of every bid team that vied to host the 2018 or 2022 FIFA World Cup.
"Accordingly, the fact that we request a meeting with members of a particular bid team does not mean that any specific allegation has been made by or against that team or anyone associated with it."
Garcia is on a list of prominent Americans banned from entering Russia in retaliation for him prosecuting Russian arms dealer Viktor Bout who was sentenced by a US court to 25 years in prison last year.
As a result, the statement said, the deputy chairman of the Investigatory Chamber, Cornel Borbely of Switzerland, will take Garcia's place not only for talks with Russian officials but also, in order to avoid any conflict of interest, with respect to the United States bid.
The statement said Garcia's probe could take "several months into 2014" but stressed it was not designed, per se, to investigate allegations against Qatar.
"It is not our role to determine the venue or timing of the World Cup. Our role, in this or any other matter, is to investigate potential violations of the FIFA Code of Ethics by football officials," the statement said.
"We will consider any allegations and evidence indicative of such violations, and we urge anyone with potentially relevant information to contact us now. We emphasize that the FIFA Code of Ethics provides anonymity protections in appropriate circumstances.
"As in every case, we will use all investigative tools available to us under the FIFA Code of Ethics. These tools include the authority to impose disciplinary measures against anyone who breaches an obligation to cooperate with the investigation. "
"Ultimately, we will submit a final report to the Adjudicatory Chamber. In addition to setting forth findings and recommendations, the report will document the investigative steps we followed, including what information and material we requested and what response we received. "
Contact the writer of this story at This email address is being protected from spambots. You need JavaScript enabled to view it.