News
Details

Category: FIFA
Published on Wednesday, 09 October 2013 13:52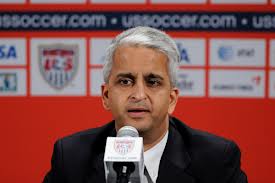 By Andrew Warshaw
Ocotber 9 - The United States will only seriously consider going for the 2026 World Cup if the bidding process is changed and FIFA's rules are tightened up, US Soccer federation president Sunil Gulati declared today. Gulati, one of the newest members of FIFA's executive committee, said his country was still bruised over their crushing 14-8 defeat by Qatar for the 2022 tournament and would not be prepared to go through the expense and stress of bidding again unless there was more clarity.
Subscribe now to read the full article
INSIDE World Football's news archive of more than 3,000 stories and columns is now available via subscribtion. Subscribers also receive the daily newsletter as well as at various times special offer discounts for conferences, books, and other services.
Subscribe to read the full article