News
Details

Category: FIFA
Published on Wednesday, 09 October 2013 13:52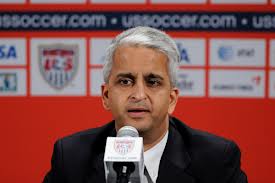 By Andrew Warshaw
Ocotber 9 - The United States will only seriously consider going for the 2026 World Cup if the bidding process is changed and FIFA's rules are tightened up, US Soccer federation president Sunil Gulati declared today. Gulati, one of the newest members of FIFA's executive committee, said his country was still bruised over their crushing 14-8 defeat by Qatar for the 2022 tournament and would not be prepared to go through the expense and stress of bidding again unless there was more clarity.
In addition to the winter versus summer debacle over Qatar, FIFA's original decision to stage the ballots for both the 2018 and 2022 World Cups on the same day have been widely criticised.
Football's world governing body has already said that with hindsight the strategy was a mistake and will not be repeated. It has been decided, as part of its recent reform package, that future World Cup hosts will be chosen by its full 209-nation membership rather than just its elite executive committee.
But Gulati, speaking in London, said he wanted to see the guidelines toughened up even more, not least when it comes to FIFA's technical inspection report.
"It was a difficult day and a controversial decision because we worked very hard for a couple of years to try and win," said Gulati.
"Clearly it was a disappointment. Would we be interested in bidding for 2026? The procedures would need to be very different to what they are now. If the critical issue is new lands (getting the World Cup), then tell us in advance because we won't bother.
"The rules need to be clearer and tighter. And the process needs to be better. If you are stepping on to a field of play, you know what the rules are. We'd want more clarity on the bidding and the whole process. For instance, is there going to be a system of rotation, or not? This needs to be established well enough in advance so people know."
"Also, my personal view is that it should also be a public vote (instead of secret). And the technical report should matter in some concrete way, otherwise it's an unnecessary expenditure on funds and time."
Turning to the 2022 tournament itself, and FIFA's decision last week to in effect postpone a decision on the actual date - possibly until 2015 - Gulati said any other outcome would have been "a nonsense".
"FIFA made the right decision to take its time," he said. "Over the next six or 12 months, maybe over the next 18, FIFA will talk to all the stakeholders and come up with the best decision.
"Quite frankly I don't understand what the rush was all about in the first place. The tournament is still nine years away. It's a hugely important decision in terms of the impact it will have on the international calendar. To not have a thoroughly vetted study would be foolhardy."
Contact the writer of this story at This email address is being protected from spambots. You need JavaScript enabled to view it.