News
Details

Category: FIFA
Published on Thursday, 10 October 2013 12:10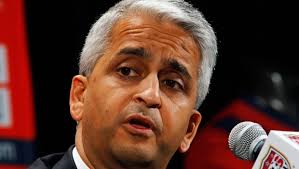 By Andrew Warshaw
October 10 - The head of the US Soccer Federation believes player eligibility rules need to be tightened up to stop promising young internationals having carte blanche to turn out for two different countries.
Under current FIFA rules, players can request to switch countries provided they have not played a competitive senior fixture for their current association.
Sunil Gulati, who recently joined the FIFA executive committee, has no problems per se in such a practice – derided by critics as mere flags of convenience - but says a line has to be drawn somewhere.
"Players who were born overseas to US parentage have every right to play for the United States," said Gulati. "By the same token we have players born and raised in the United States who play for other countries.
"I have no problem with that but the one thing that does need to change is the notion that you can play for one country in a world youth championship and then change later. It's a rule that got passed (by FIFA) a few years ago.
"To go to an under-20 World Cup, play for one country and then maybe play for someone else in the World Cup proper a couple of years later doesn't make sense. I have raised that with some of my colleagues at FIFA and will continue to do so.
"If you are committed to a country and have played for them in a world championship, you should be bound to that country. The thought that we have players playing in 20-odd friendlies, under-17 and under-20 and then can switch, that doesn't make sense to me."
Contact the writer of this story at This email address is being protected from spambots. You need JavaScript enabled to view it.