News
Details

Category: FIFA
Published on Friday, 08 November 2013 10:36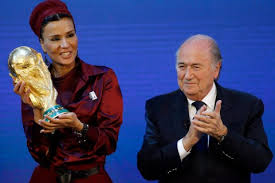 By Andrew Warshaw
November 8 - FIFA president Sepp Blatter has been urged not to return "empty-handed" from this weekend's courtesy trip to Qatar which will take in the contentious issue of workers' rights.
Blatter is due to make a personal visit to the new emir of Qatar on Saturday to discuss the treatment of migrant workers following highly publicised reports of severe labour rights abuses that have caused widespread embarrassment to organisers of the 2022 World Cup.
The plight of Nepalese workers has become almost as much of a talking point - if not more so - than the debate over whether to play the World Cup in winter or summer and Blatter has been mandated by his executive committee to raise concerns over what has been described as 'modern slave labour' .
"FIFA needs to tell Qatar that respect for International Labour Organisation standards is a condition for the World Cup in 2022 and that any further delay will jeopardise Qatar's hosting of the event," said Sharan Burrow, General Secretary of the International Trade Union Confederation.
"This means an end to the kafala system, the right for migrant workers to organise unions to ensure safe and decent work, and responsible recruitment of migrant workers. Sepp Blatter cannot come back empty-handed."
Blatter, Burrow added, "should give a detailed report to next month's Executive Committee meeting in Brazil about what FIFA has done in the two months since it finally acknowledged the problems facing workers constructing World Cup infrastructure in Qatar."
The ITUC estimates 4,000 workers could die building World Cup infrastructure. Blatter recently declared that "FIFA cannot interfere with the labour rights of any country, but we cannot ignore them."
Keeping up the pressure on FIFA to do more than just words, Burrow added: "It is shameful that FIFA continues to distance itself from taking any real action in Qatar despite FIFA-inspired worker laws evident in other countries hosting the World Cup."
Several FIFA executive committee officials including vice-president Jim Boyce and Jordan's Prince Ali bin al-Hussein have spoken out on the issue and the Qatari authorities have launched an independent investigation into reports that at least 44 workers died between June 4 and August 8.
"Workers' rights must be a condition of Qatar hosting the World Cup in 2022. If there are no labour rights, there should be no World Cup in Qatar. There is still time to re-run the vote for the 2022 World Cup if Qatar does not reform its ways," said Burrow.
But as Blatter prepared to meet with the Emir, German legend Franz Beckenbauer, a former FIFA executive committee member, questioned claims of forced labour in Qatar even though working conditions on stadia sites have come under fierce scrutiny.
Speaking at an event in Munich earlier this week, Beckenbauer said: "I have not seen a single slave in Qatar. I don't know where those reports come from. I have been to Qatar many times and therefore have a different view, which, I believe, is more realistic."
Contact the writer of this story at This email address is being protected from spambots. You need JavaScript enabled to view it.