News
Details

Category: FIFA
Published on Monday, 09 December 2013 13:53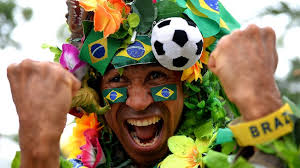 December 9 - The next round of 2014 World Cup match ticket sales opened yesterday on the FIFA online ticketing site. This round of sales will be open until 30 January 2014 and applications can be made for 62 of the 64 matches (the opening game in Sao Paulo and final in Rio are excluded).
FIFA has said there is no rush required to apply for tickets as where there are more requests than seats available (which looks likely to be the case for most matches), the governing body will allocate seats via a random selection draw.
With the draw having been completed, FIFA is now opening the ticket sales for fans who want to follow their own teams. Fans of each team have the opportunity to apply for the 8% of tickets that have been reserved for their country – this applies to all matches including tickets for Brazilian and Croatian fans for the Opening Match on 12 June 2014 in Sao Paulo.
To qualify for these tickets the applicant has to be a resident of the country or nationals from the respective teams playing – where they reside is not a criteria for inclusion. Only tickets from categories 1-3 are available. This ticketing phase will end 7 February 2014 and similar random selection draw procedures will apply if there is an over subscription for tickets.
Some countries are restricting the sale of these tickets to their fan club members only.
More than 6.2 million World Cup tickets have been requested so far. 889,305 tickets were allocated to people from 188 countries during the random selection draw for the first phase of ticket sales. The second round of ticket sales (220,000 match tickets) was conducted on a first come, first served basis and sold out in seven hours.
Tickets can be applied for at FIFA.com/tickets.
Contact the writer of this story at This email address is being protected from spambots. You need JavaScript enabled to view it.