News
Details

Category: FIFA
Published on Tuesday, 25 March 2014 10:03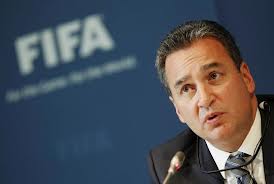 By Andrew Warshaw, chief correspondent
March 25 - FIFA has side-stepped a potential new storm after it emerged that tentative moves were taken last week by senior figures to try and shut down the probe into the voting procedure for the 2018 and 2022 World Cups and remove chief prosecutor Michael Garcia from the process.
Just as Garcia was in Zurich privately interviewing members of FIFA's executive committee as part of his general anti-corruption brief, INSIDEworldfootball has learned that moves were being made behind the scenes to abolish the role of FIFA's ethics chief.
Whilst it is not known who instigated these efforts, which apparently took place between the first and second days of the exco meeting, they appear to have been stopped in their tracks before reaching the second exco session as a result of a series of informal conversations among recently appointed, reform-minded members who were not around at the time the two World Cup votes took place in December, 2010.
Garcia, a US lawyer, was parachuted into his current position in July, 2012 as a major part of the reform process instigated by FIFA president Sepp Blatter following a spate of scandals surrounding not only the 2018 and 2022 World Cup ballots but, notably, the 2011 FIFA presidential election that was marred by the infamous cash-for-votes debacle involving payments made to Caribbean members and which ultimately led to the downfalls of FIFA vice- presidents Jack Warner and Mohamed bin Hammam, in the process scuppering the latter's challenge to Sepp Blatter.
Warner, who had been president of CONCACAF, walked away from FIFA rather than face bribery accusations while bin Hammam, who headed the Asian Football Confederation, was banned for life.
There is no evidence whatsoever to suggest that Blatter condoned the idea of removing Garcia; indeed exco members say any such action would be "suicidal and unthinkable" given the current sensitivity over FIFA's image and reputation. Crucially, only Congress has the power to get rid of Garcia. Any other action would be unconstitutional.
Rumours of this latest twist in the reform process, however, were confirmed under anonymity by several exco members and were put to Britain's FIFA vice-president Jim Boyce who last week turned 70 and steps down from FIFA in 15 months' time.
"There was a bit of informal chat about the possibility that some people wanted to see Garcia removed from the inquiry and that it might be raised at the exco meeting - but it wasn't," Boyce said when approached by INSIDEworldfootball, adding that any such move would constitute a resignation issue.
"As someone who has been brought up with honesty and integrity - and it was a great honour for me to be asked to be vice-president - if this had been proposed at the exco meeting or I thought for one moment Garcia would be removed in any fashion from carrying out his full investigation, I and others would be aghast and would have to consider our positions because things at FIFA have been improving greatly."
It is believed a growing number of exco members have become concerned over Garcia's potential conflict of interest as the most likely benefactor from his investigation could be the United States. He had previously excused himself from investigating fellow countryman Chuck Blazer, the former CONCACAF general secretary who was banned because of financial mismanagement.
Prince Ali bin Al-Hussein of Jordan, Asia's FIFA vice-president, also confirmed that unofficial manoeuvrings had taken place in the corridors of power. "There were some questions raised about the necessity of having an independent ethics committee but, to be honest, I think that idea was stopped," he said.
"There were certain people like myself who could not accept that this could happen.
"He [Michael Garcia] was supported by our Congress and given a mandate and I am very happy he will continue with his work."
The fact that Garcia may not enjoy the total support of his employers will lead many to question whether some of them have something to hide. Almost half the exco members who took part in the vote for the 2018 and 2022 World Cups have either resigned or been kicked out since then.
The reason the ballots were staged back to back has been the subject of much criticism. "I have never understood to this day why there was a double bid. It still makes no sense to me," said one source close to the exco. However FIFA has always said that this decision was taken when the world was in economic crisis. At the time it was felt that this was the strongest way to safeguard the organisation's long term revenue through building long term TV and marketing partnerships.
FIFA did not respond to requests for a statement while Garcia's office in New York refused to comment.
Contact the writer of this story at This email address is being protected from spambots. You need JavaScript enabled to view it.