News
Details

Category: FIFA
Published on Thursday, 27 March 2014 10:29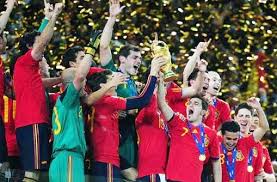 By David Owen
March 27 - FIFA, world football's governing body, has paved the way for a big increase in prize money at the 2018 World Cup, to be staged in Russia.
Budget plans for 2015-18, included in the body's new 2013 financial report, include a total of $582 million for "finalist payments" at the flagship tournament, which is responsible for the vast majority of FIFA's revenue.
This would be more than $100 million up on the $476 million to be paid to national teams and the clubs who employ the players competing at this summer's World Cup in Brazil.
The planned 22% increase appears to leave open the possibility of 2018 producing the first $50 million World Cup winner.
The winner of this year's tournament is to receive $35 million, with $25 million going to the runners-up.
Beaten quarter-finalists will get $14 million, and even the 16 teams eliminated at the group stage will collect $9.5 million, consisting of $8 million prize money and the $1.5 million preparation fee paid to all 32 finalists.
Clubs whose players take part in the tournament will share $70 million, based on a "per player per day" amount of $2,800.
The 2015-18 budget also indicates that FIFA expects to extend its Club Protection Programme (CPP), an insurance scheme designed to compensate clubs when their players are injured on international duty, beyond its current end-2014 cut-off point.
The budget includes $120 million for CPP, up from its expected $100 million cost for 2012-14.
FIFA confirmed that it was "foreseen" that the CPP would be continued.
However, this had not yet been approved by FIFA's Executive Committee.
Contact the writer of this story at This email address is being protected from spambots. You need JavaScript enabled to view it.