Details

Category: IFA
Published on Wednesday, 30 October 2013 13:02
By Paul Nicholson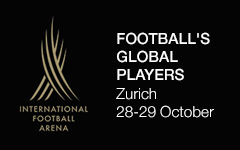 October 30 - The final session of the International Football Arena (IFA) event in Zurich lived up to expectations, producing a passionate debate across a wide range of issues surrounding the hosting of big events. If the final verdict was that there is still a place for mega events, the conclusion was clearly that more needs to be done in communicating what hosting of the events will entail.
The session's panelists, in typical IFA style, were an eclectic mix of different specialisms within the football and sports business, but the feeling was unanimous in that communicating the impact of a major event, and FIFA World Cups in particular, is not just about pacifying a disenfranchised local public, but also about making the host nation, and especially its government, understand what they are signing up for.
The highlight of the session was always likely to be the match-up between outspoken academic and author Chris Gaffney who has written widely on the social impact of the 2014 World Cup in Brazil and is a visiting professor at the Universidade Federal Fluminese, and FIFA's director of communications and public affairs Walter De Gregorio.
Gaffney, in a previous interview with Insideworldfootball, maintained that the top down imposition of mega events on countries, developing countries in particular, needs to change (http://www.insideworldfootball.com/ifa/13441-ifa-is-there-a-future-for-mega-events). Entering the lion's den of a predominantly football business audience his opinion was no less forthright.
"In no case have the events made the societies more developed or changed. They don't distribute wealth, they don't give the lower side of the social spectrum more power, completely the opposite. These are publicly financed events that private companies benefit from, that's what it is, it's not that these things transfer wealth," said Gaffney.
"In Brazil we are seeing the absence of voice, the absence of power the absence of decision making and the whole process of hosting big events is what is more irritiating than anything else.
"But we needed to reform our stadium, we needed better transportation plans, fibre optic will be fantastic, all these things that come as part and parcel of the event can be done... but they are political events and they are events used to consolidate political power and this is part of a larger system of global political power a larger global mega event industrial complex that doesn't open up new avenues of power... Making societies more egalitarian should be the goal of these events...they should use sport as development how is that these events contribute...that should be the question."
The immediate response to Gaffney's points from Oliver Kaiser, CEO of the Ledavi ad agency network was why do governments and the Brazilian government in particular "choose to ask for something that they cannot manage? Perhaps the process of giving (the World Cup) needs to be changed". Kaiser was referring to a closer attention to bid countries capabilities to afford and manage a World Cup, but for Brazil this ship has long sailed.
De Gregorio confronted Gaffney's point on economic benefit head-on.
"I disagree with what is said that there is no economic factor for the host country. There are a number of economic studies (of the impact of the World Cup 2014 on the Brazilian economy). There is one from Ernst and Young saying that there will be an extra tax generated in Brazil that is Reals 80 billion, SFR9 billion, and this goes back to the public. We have to generate 50,000 new jobs and so on and so on. So it is not true in my view that there is no economic factor," said De Gregorio.
"But there are two other factors why I think big events have a future. The second one is how do you monetise the fact that the country has a different positive image. The third one is the political one of human rights. The good thing in philosophy is that you never have to be financed. You talk and talk and you have a lot of questions. Yes we all agree you have to have the minimum standard of human rights within a country, but where do you draw the line."
De Gregorio said that if you took a World Cup to the US you could find human rights issues, similarly in Europe, and in Italy in particular, where there are thousands of black Africans struggling with hunger and extreme poverty "... you will always find a reason why you should not go to a country. I am not saying what happens in Russia or Qatar is OK but in all this discussion about human rights and about labour rights there is a very big factor of hypocrisy."
Leading on from this, and perhaps not entirely unconnected, De Gregorio took the opportunity to make the point that football cannot solve all the world's discrimination problems.
"We talk about racism, everybody asks football to sort the problem. OK, if people would engage as much as they engage when they talk about racism in football, if they would start to fight racism in school, on the street, at work in daily life (then we would be getting somewhere). Everybody knows we have to do something about racism but we don't have time, but thanks to football our bad conscience is released because we say 'yeah, football has to fix that'. Yes we all agree it is difficult to implement but just how do we do something that is feasible?"
Contact the writer of this story at This email address is being protected from spambots. You need JavaScript enabled to view it.