Details

Category: Russia
Published on Friday, 30 October 2009 16:38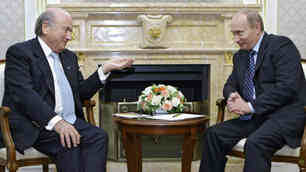 October 15 - Russia has a good chance of being chosen to host the 2018 World Cup, FIFA President Sepp Blatter claimed after a meeting in Moscow today with the country's Prime Minister Vladimir Putin.

England are the favourites to host the tournament but experts predict that Russia could turn out to be its greatest threat, especially with Putin being such an enthusiastic supporter of the bid.
It was his support as then President that helped Sochi win its bid to host the 2014 Winter Olympics and he has now set his sights on the World Cup.
Holding such a major event will certainly boost the development of football in the post-Soviet region and in Eastern Europe, Putin said.
Blatter said: "My philosophy is to bring football to those countries and regions where we haven't been before.
"Accordingly, we are in Africa now [for the 2010 World Cup in South Africa]."
The Russian bid, which was officially launched last Friday, has won the Government's support, with a bidding commission chaired by First Deputy Prime Minister Igor Shuvalov.
Blatter encouraged Putin to continue his support by claiming that hosting the World Cup would be an even bigger event than the Olympics.
He said: "Regardless of what anyone says about, say, the Olympic Games, this is the world's main event, the foremost event, event number one.
"Football is football.
"Today, over the course of the day, I had the opportunity to familiarise myself with the progress of Russia's preparations to host the World Cup.
"And let me take this opportunity to explain my football philosophy.
"I think that the world football championship, the World Cup within the framework of FIFA must leave a legacy.
"And just such a concept is being realised here in Russia.
"That is why I feel a whole-hearted affinity for the Russian bid."   
Russia has seven competitors to host the 2018 World Cup.
Besides England, they are Australia, Indonesia, Japan, the United States and joint bids from Belgium and Holland and Spain and Portugal.
FIFA will vote on the host nations for the 2018 and 2022 tournaments on December 2, 2010.