Details

Category: Latest
Published on Monday, 22 March 2010 20:01
By Andrew Warshaw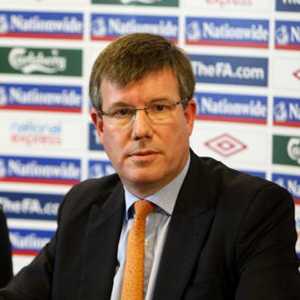 March 22 - English football was plunged into disarray today when Football Association chief executive Ian Watmore unexpectedly resigned after just a year in the job.
Watmore, regarded as a forward-thinking facilitator and a breath of fresh air when appointed in February, 2009, gave no reason why he had quit but the decision is a massive embarrassment for the FA at a time when England are bidding for the 2018 World Cup.
FA chairman Lord Triesman said Watmore's resignation had been accepted with "great regret", revealing that he had handed in his notice on Friday and could not be talked out of it.
"I asked him to re-consider over the weekend," said Triesman.
"However, he has confirmed today that his position remains unchanged."
The FA will hold an emergency board meeting tomorrow to decide on the best way forward and who will step into Watmore's shoes on a short-term basis.
Watmore joined the FA after serving as Permanent Secretary for the Department for Innovation, Universities and Skills, the latest in a number of civil service roles.
Hugely personable and media friendly, upon his appointment he described his new job as "a great challenge"  saying he wanted to achieve success  "on and off the pitch across all levels of the game."
During his tenure England sealed qualification for this summer's World Cup in South Africa, while progress was made on the National Football Centre in Burton.
Recently, however, he suggested the FA Cup could become primarily a midweek competition, an argument that received a lukewarm response.
Just over two weeks ago, 51-year-old Watmore, a Cambridge graduate and passionate Arsenal fan, seemed relaxed and jovial when he socialised informally with a group of football writers at the International FA Board meeting in Zurich.
The following day, he was clearly frustrated when the FA and its Scottish counterpart were outvoted in the debate over whether to experiment with goal-line technology.
Watmore succeeded Brian Barwick, who left the FA at the end of 2008, and was considered the ideal man to settle into a role that had become something of a poisoned chalice with a succession of chief executives being forced out, not always for footballing reasons.
Some sources are already suggesting that Watmore found it impossible to work opposite Premier League chairman Sir Dave Richards. 
"Ian is disappointed with the way this has worked out," one was quoted as saying.
"It boiled down to the realisation that the job wasn't what he thought it was going to be.
"He took a position as chief executive which, ultimately, he found wasn't chief and wasn't executive."
With his departure the FA has now has lost no fewer than six chief executives in just over a decade.
Finding a replacement of Watmore's calibre will not be easy.
Nor will be rebuilding the image of the FA both domestically and internationally and restoring unity to an association that has been ravaged by internal strife.
Contact the writer of this story at This email address is being protected from spambots. You need JavaScript enabled to view it.