Details

Category: Moscow Forum
Published on Thursday, 23 June 2011 11:55
By Andrew Warshaw in Moscow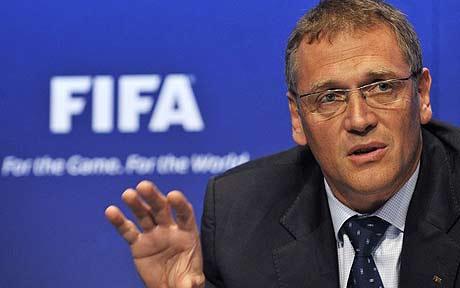 June 23 - FIFA general-secretary Jerome Valcke, cleared of any wrongdoing over comments he made about Qatar's 2022 World Cup bid, will once again be the centre of attention when he makes the keynote address tomorrow to the inaugural Inside World Football Moscow forum here in the Russian capital.
Valcke is due to speak for 15 minutes at the start of the one-day forum and seems certain to be quizzed over the ongoing bribery scandal which led to the resignation of FIFA vice-president Jack Warner and has heaped pressure on Asian football chief Mohamed Bin Hammam to do the same.
Valcke was cleared earlier this week when FIFA announced he would not face any internal charges for sending an e-mail that claimed Qatar "bought" the right to host the 2022 World Cup.
Valcke's private e-mail was revealed last month by Warner in an attempt to incriminate Sepp Blatter's number two who subsequently insisted the correspondence had been totally misinterpreted.
"There are no pending issues to discuss in this regard and the FIFA president and secretary general look forward to working together in full confidence and trust in the next four- year cycle, as they have done for the past four years," FIFA said in a statement.
After Warner made the email public, Valcke responded by saying all he meant was that Qatar had perfectly legitimately used its financial muscle to "heavily promote their bid all around the world in a very efficient manner."
The email nevertheless heaped embarrassment on FIFA due to some injudicious language, not least when Valcke referred to Bin Hammam who pulled out of challenging Blatter for the FIFA Presidency just before being suspended by FIFA's Ethics Committee for his role in the bribes-for-votes scandal that allegedly took place in Trinidad and Tobago three weeks before the election.
"For MBH, I never understood why he was running," wrote Valcke who many observers believe was fortunate not to be santioned.
"If really he thought he had a chance or just being an extreme way to express how much he does not like anymore JSB [Blatter].
"Or he thought you can buy FIFA as they bought the World Cup."
Contact the writer of this story at This email address is being protected from spambots. You need JavaScript enabled to view it.
Related storiesJune 2011:
Valcke to deliver keynote address at Inside World Football Moscow Forum
May 2011:
"Did I say Qatar 2022 bribed people to get World Cup"? - I didn't mean it, says Valcke
May 2011:·
FIFA general secretary under threat after explosive Qatar 2022 bribe allegations