Details

Category: Moscow Forum
Published on Friday, 24 June 2011 16:30
By Andrew Warshaw in Moscow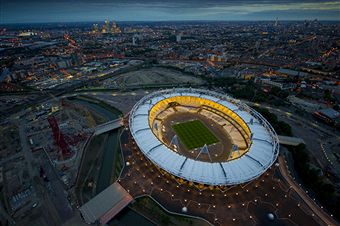 June 24 - Tottenham Hotspur admitted today that the club could not compete on a level playing field with their Premiership rivals unless they are able to acquire a bigger stadium.
Twenty-four hours after Tottenham and Leyton Orient failed in their bid for a judicial review to block West Ham United move to the Olympic Stadium after next year's summer Games, Tottenham executive director Donna Cullen stressed how badly the North London club needed to move from their 36,000-capacity White Hart Lane Stadium.
It is a mark of Tottenham's increased stature, in part due to their Champions League campaign last season, that they were the only Premier League club invited to the inaugural Inside World Football Forum here and Cullen spent much of her address explaining how the Russians could learn from the way the North London club operates both from a revenue-driving and marketing standpoint.
Tottenham, she said, was one only four Premier League clubs who currently met Financial Fair Play guidelines but one thing, she admitted, was sorely missing.
"There is a huge, pressing need for an increased capacity stadium," Cullen told her audience, "a need that is in discussion whilst we try and find a viable and affordable option.
"We are constantly among the richest 15 clubs in the world but have one of the smallest stadiums.
"We struggle to increase match-day income."
Tottenahm are now considering whether to apply for an oral hearing in the High Court whilst at the same time focussing more strongly on plans to turn White Hart Lane into a 56,000-capacity ground.
Their loss as far as Stratford is concerned is West Ham's gain even though the Hammers have been relegated to the Championship.
Newham Council, who have arranged a £40 million ($64 million) loan to finance West Ham's move to the Olympic stadium, said in a statement: "We are continuing to focus on securing a lasting legacy for the stadium and, together with West Ham United, are progressing well with the Olympic Park Legacy Company on bringing the matter to a commercial and financial close."
The Council was backed by West Ham vice-chairman Karren Brady who added: "We hope we can now focus all our energy and passion on delivering a fantastic multi-use Olympic Stadium for the whole nation."
Spurs, with a 37,000 waiting list, had originally turned their attention to the Olympic Stadium in Stratford after deciding their plans for a new ground adjacant to their current home were not economically viable.
Tottenham's proposal, part of a joint bid with AEG sport and entertainment group, had been to move to Stratford, knock down the Olympic stadium, rebuild it as a football-only venue and, by way of a commitment to athletics, redevelop the National Sports Centre at Crystal Palace.
But West Ham, the club nearest the Olympic Stadium in terms of fan base, were unanimously chosen as the preferred occupant.
With no new stadium on the immediate horizon for Tottenham, Cullen jumped the gun slightly when discussing the commercial benefits of a new ground.
"The stadium will offer us the opportunity of a naming rights deal," she said.
But she quickly returned to the immediate future, stressing that only with prudent investment and clever marketing would the club continue to grow, a classic example being the innovation of splitting their shirt sponsorship between league and cup games - however unpalatable that might be for merchandise-buying fans.
The best advice she gave to her Russian hosts was never to lose sight of taking football to less fortunate elements of the local community.
"It's a platitude to say that football has the power to engage but it's really a truth," said Cullen.
"When you start to take football to all the regions in Russia, don't overlook this valuable exercise you can undertake at grass-roots level."
Cullen was speaking on the same panel as Premier League general secretary Nic Coward who had been invited to Moscow to explain how the world's most popular league had become such a forceful global brand over the last 20 years.
Although the league has become a three-tier competition, with the elite pulling away from the rest, Coward had carte blanche to focus on the positive – stadium atmosphere and fan passion - and ignore the worryingly top-heavy reliance on foreign ownership to achieve success.
"We want anyone to beat anyone," said Coward who made the point that 82 per cent of revenue goes back into the clubs.
"But at the same time our clubs are global brands with global aspirations.
"The important thing is to make sure we are part of our community but also take our football around the world."
Contact the writer of this story at This email address is being protected from spambots. You need JavaScript enabled to view it.