Details

Category: Latest
Published on Friday, 18 January 2013 12:43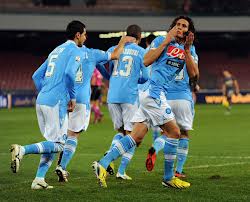 By Mark BaberJanuary 18 - Napoli have had the two-point penalty imposed for match fixing overturned and Paolo Cannavaro and Gianluca Grava have both had their six month bans revoked on appeal.
The FIGC Court hearing yesterday overturned the initial match-fixing sentence imposed on December 18 after former goalkeeper Matteo Gianello confessed to trying to fix the Sampdoria v Napoli game in May 2010. Sampdoria won the game 1-0, ensuring they reached the qualifying stages of the 2010-11 Champions League.
Gianello was accused of having asked Cannavaro and Grava to participate in the fix, and they had been suspended, on the basis they should have informed authorities. The pair denied Gianello had approached them and the ruling affirms that the crime "did not exist".
The return of the two points puts Napoli level with Lazio, just three points behind leaders Juventus.
Napoli manager Walter Mazzarri expressed his delight: "First of all, I'm delighted for Paolo and Gianluca, two absolutely smashing lads. They had an awful Christmas, they were victims of a grave injustice. Obviously I'm pleased about our league position too. We earned those two points on the pitch and it would have been a further injustice if they had been taken away from us."
Paolo Cannavaro said: "I'm still crying for joy, half an hour later."
Gianluca Grava said it was "the end of a nightmare...and I'm glad that justice has been done."
Napoli's lawyer, Mattia Grassani, said that he was curious to find the reasoning behind the success of the appeal and paid tribute to the role played by Napoli President De Laurentiis who made a personal statement at the hearing.
Gianello's ban has also been reduced from three years and three months to two years and nine months, while Napoli's fine has been reduced from €70,000 to €50,000.
Gianello's lawyer Eduardo Chiacchio said: "We played a decisive role in getting the points penalty revoked and Grava and Cannavaro acquitted."
He also hailed Gianello's ban being reduced to 21 months on the basis that he had "made a mistake and it's right that he should pay, but he didn't commit sporting fraud".
Contact the writer of this story at This email address is being protected from spambots. You need JavaScript enabled to view it.