Details

Category: Latest
Published on Tuesday, 22 January 2013 07:47
By Andrew Warshaw, Chief Correspondent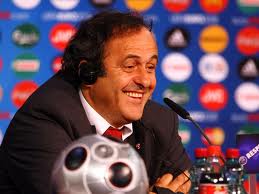 January 22 - Despite voting for Qatar to stage the 2022 World Cup in the Summer, UEFA President Michel Platini continues to beat the drum for the tournament to be switched to the winter months.
Every time Platini is asked about the subject, he says the same thing - that it should take place in November and December - and has done it again in a radio interview in his native France.
"It's 50 degress in the summer in Qatar," Platini told a French radio station."If we do not change the date there are countries that will never receive the World Cup. We have to play the World Cup at the best moment to stage the World Cup."
Although he denounced racism and crowd violence, interviewed about the future of football Platini cited match-fixing and illegal betting as the biggest threat to the game since, he said, nobody would bother to go and watch if they felt games were being rigged.
"Racism, violence do not affect just football but the public. On the other hand, we are directly concerned by match-fixing," he told RTL. "For me, this is the big shame. If tomorrow, we go watch a game already knowing the outcome, football is dead."
Platini also publicly revealed for the first time the extent of his support for AC Milan midfielder Kevin-Prince Boateng for walking off the pitch during a match this month in protest against abuse.
"It was wonderful. I really liked it a lot. I even called AC Milan to congratulate them," he said.
Platini believes there should be a kind of 'three strikes and you're out' strategy by the officials over racism.
"If they hear racist chants, there is an appeal for them to desist over the public address system and the match is stopped for a minute," he said.
"After that if the chanting resumes there is a stoppage of two minutes and a new appeal for them to stop. A third time and the referee can call the match off."
UEFA is coming under increasing pressure to make Platini's financial fair play rules stick with many legal experts predicting a string of court challenges.
But, not for the first time, he insisted the rules were there to protect, not punish. "We cannot continue like this," Platini said of spiralling club losses. "I do not want to kill the clubs. I do not want them to go bankrupt."
Contact the writer of this story at This email address is being protected from spambots. You need JavaScript enabled to view it.