Details

Category: Latest
Published on Friday, 25 January 2013 11:40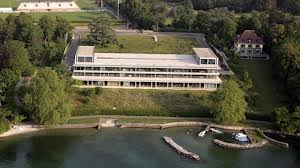 By Andrew Warshaw, Chief Correspondent, with extra reporting by Mark BaberJanuary 25 - European football's 53-nation membership have responded to FIFA president Sepp Blatter's proposals for cleaning up the game and have come up with a series of counter suggestions in a declaration following their meetings in Nyon.
Next May at the FIFA Congress in Mauritius, Blatter is hoping to push through his two-year roadmap for reform which includes a raft of statute-changing recommendations.
The 10-point plan was sent to the national federations via their respective confederations for global consultation following a series of scandals that rocked football's world governing body.
Proposals under discussion include an upper age limit of 72 for FIFA election candidates and a two-term, eight-year limit for the presidency. FIFA's 209 members, rather than its executive committee, will also be asked to choose future World Cup hosts after the exco was hit by corruption allegations linked to both the bidding contests two years ago, and which led to the departure of a number of key administrators.
UEFA member countries, for their part, have indicated they would like to see change in a number of the proposals and have added further proposals of their own. UEFA comprise a quarter of FIFA's membership and will vote as a block in May, making them a powerful voice in the reform process.
For a start, they favour from 2015 the FIFA president serving an eight-year first term and then be permitted a second four-year term, mirroring the International Olympic Committee - four more years than FIFA's top corruption buster, Mark Pieth, has recommended. ''It is right that you give time to a FIFA president to implement his ideas and his programme,'' Infantino said. ''Find me a FIFA president who has been in office for less than 12 years in any case?''
Infantino told reporters that the meeting of European national associations at UEFA headquarters was "the most interesting gathering" in his 13 years at UEFA, one which tried to find "compromises" in terms of what good governance actually meant.
European associations agreed with the proposal that members of the FIFA Executive Committee should continue to be appointed by their continental confederations - without first having to be given approval by the FIFA Congress.
UEFA also proposes that FIFA presidential candidates should in future be supported by "their own national federation" and have "active office" at national or confederation level. In other words, said Infantino, not just "coming from nowhere". The support of a minimum 10 national associations from at least two Confederations was also desirable for a candidate to run for the top job.
As far as members of the FIFA exco are concerned, said Infantino, UEFA members agreed there had to be strict criteria for selection. "For example, a person who has been banned by a sporting disciplinary body for corruption, match-fixing or violence should not be eligible to became a FIFA executive committee member."
Turning to the so-called "British seat" on FIFA's executive committee, UEFA members continue to back the historical British privilege of a guaranteed FIFA vice presidency. But, crucially, in future they want the position to be elected by all UEFA members and not simply nominated by the four British home associations.
The full declaration from UEFA reads as follows:
Declaration of the 53 European FIFA member associations regarding the revision of the FIFA StatutesI. Introductory remarks
Following the meeting of the presidents and general secretaries of the 53 European FIFA member associations in Nyon on 24 January 2013, the 53 European FIFA member associations unanimously adopt this declaration in relation to the outstanding statutory amendments proposed by FIFA in order to improve its governance.
II. Amendment proposals1. Confirmation of the members of the FIFA Executive Committee:
• Members of the FIFA Executive Committee shall be appointed by the confederations as they are today. There is no need for members of the FIFA Executive Committee to be 'confirmed' by the FIFA Congress;
• If 'integrity checks' are needed for members of the FIFA Executive Committee such checks shall be conducted at confederation level on the basis of agreed minimum criteria. In particular, a person who has been banned by a sports disciplinary organ for corruption, match-fixing, doping or violence shall not be eligible to become a FIFA Executive Committee member.
2. Composition of the FIFA Executive Committee:
• There shall be no change to the basic composition of the FIFA Executive Committee, in particular, to the number of vice-presidents;
• The four British associations shall retain an automatic vice-presidency (possibly elected by the confederation of which these four national associations are members).
3. Election of the FIFA President:
• A minimum level of support (ten national football associations from at least two confederations) may be required for a candidate to run for the FIFA Presidency (though it would also be acceptable for these ten associations to belong to the same confederation);
• Candidates for the FIFA Presidency should be supported by their own national association and/or confederation and have an 'active office' within that national association and/or confederation.
4. Term of office:
• A maximum term of office for the FIFA President should be introduced as of 2015 (with the current IOC rule providing a good model to follow, i.e. a first term of eight years and a second and last term of four years);
• There should be no restrictions on term limits for members of the FIFA Executive Committee or other FIFA bodies.
5. Age limit:
• A general age limit of 72 years at the time of election/appointment is appropriate for members of all FIFA bodies.
6. Stronger representation of interest groups in FIFA:
• The wording proposed by FIFA in Article 10(1) should be amended to foresee that national associations involve relevant stakeholders, either directly or indirectly, for example through consultation, in their decision-making processes;
• National associations and confederations must always be represented in those FIFA bodies which discuss matters affecting their interests, such as the club football committee whose tasks include matters such as release of players for national teams, international match calendar etc.
7. Bidding process/decision on venue of FIFA World Cup:
• As already agreed, the FIFA Congress should decide on the venue of the FIFA World Cup based on a transparent bidding process. To this effect, the FIFA Executive Committee should, if necessary, make a pre-selection and submit a maximum of three bids to the FIFA Congress.
8. Various clarifications and specifications in the FIFA Statutes
• The clarifications and specifications proposed by FIFA are in principle supported although precise definitions (e.g. concerning calculation of majorities) should always be as clear as possible.
9. IFAB
Clear and transparent rules should be established on:
• How the process for proposals to amend the Laws of the Game works;
• How the FIFA Executive Committee exercises control over the four FIFA votes in IFAB, after it has previously consulted relevant stakeholders;
• The Laws of the Game can be amended only every two years.
10. Regulations governing candidatures for the office of FIFA President:
• The issuance of such regulations is supported in principle (subject to the detail of what such regulations contain).
11. Other proposals
In addition to the ten points mentioned above, the 53 European FIFA member associations also propose that FIFA takes steps to meet the following objectives:
• To ensure that all decisions having an impact on national associations or confederations undergo prior appropriate consultation;
• To ensure complete transparency regarding the in-flow and out-flow of financial payments;
• To ensure the FIFA Executive Committee always receives appropriate prior notice of matters (including relevant documentation) that it must discuss and decide;
• To appoint all members of FIFA committees and organs to commence their term of office in the year following the election of the FIFA President and then every subsequent four years;
• To abolish the commercial levy currently provided for in Article 77 of the FIFA Statutes;
• To give the Court of Arbitration for Sport exclusive competence to decide on provisional measures.
III. Concluding Remarks
Amendments to the FIFA Statutes that are not recognised in the present declaration are not supported by the 53 European FIFA member associations. The 53 European FIFA member associations give a mandate to the UEFA President, the European members of the FIFA Executive Committee and the UEFA General Secretary to present this declaration to FIFA as the clear position of the 53 European FIFA member associations.
Contact the writer of this story at This email address is being protected from spambots. You need JavaScript enabled to view it.