Details

Category: Latest
Published on Tuesday, 29 January 2013 09:21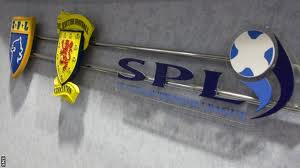 January 29 – Scottish football took a big step closer to reconstruction of its professional leagues when the Scottish Premier League (SPL) clubs yesterday backed the reconstruction proposals at a General Meeting, agreeing unanimously to move to the next stage of the process.
The 12 SPL clubs agreed to support the proposal of a new set-up of two leagues of 12 and one league of 18, effectively streamlining the higher tier of Scottish club football into three division rather than the current four divisions (12 teams in the SPL and three divisions of 10 below that).
The reconstructed league will also see a closer working relationship between the commercial departments of the SPL and the Scottish Football League, which is anticipated will give the new structure greater strength in the commercial marketplace with sponsors and partners.
The SPL clubs were expected to agree to the new format, but if there was potential derailment in the reconstruction process it was likely to have come from these clubs.
The next stage is for the Scottish Football League (SFL) clubs who meet on Thursday to agree the changes. If they agree then the plans will be put in place for the start of next season.
There are some dissenting voices within the SFL, most notably from Scotland's most successful club Rangers who, after entering financial administration last year, were dropped to the Scottish third division. It is not expected that Rangers' concerns will stop the process.
"The clubs were united in their view about the need for change," said SPL chief executive Neil Doncaster. "I firmly believe that any change can only come from consensus and there's one consensus model for change going forward.
"The SPL clubs have been clear today that they, in principle back this being taken to the next stage."
Contact the writer of this story at This email address is being protected from spambots. You need JavaScript enabled to view it.