Details

Category: News
Published on Wednesday, 06 March 2013 11:25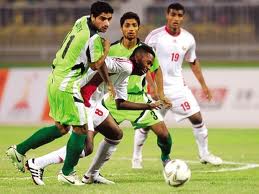 By Mark Baber
March 6 - Pakistan is planning to launch a new football competition, modelled on the successful Indian Premier League for cricket, in a bid to overcome Pakistan football's problems.
Officials of the Pakistan Football Federation (PFF) are in talks with potential sponsors for a new proposed league, which would feature six city-based teams playing each other in Lahore.
Naveed Haider Khan, marketing consultant at the PFF, said the new competition, which is dependent on sponsorship, would give football a much-needed shot of razzmatazz. "We want to glamourise this game in Pakistan, we want to run it like the IPL in India with cricket," said Khan
Pakistani football has made progress under PFF President Makhdoom Syed Faisal Saleh Hayat on limited funding provided by FIFA and the AFC, but major structural problems remain which the new plan aims to tackle.
The Pakistan Premier League (PPL), set up in 2004, is dominated by a small number of teams which have limited interest for sponsors, including 'The Soldiers' of the Pakistan Army FC, 'The Watermen' of the Water and Power Development Authority FC (WAPDA) and KRL, the team of Pakistan's nuclear laboratories – the Khan Research Laboratories.
The game is blighted by security issues due to shootings and bombings, including in Baluchistan, the heartland of the game, which is beset by sectarian, separatist and Islamist violence. Teams from other areas refuse to play in the area, leading to each of the four clubs in the area being awarded four 3-0 walk-over wins last season.
The only teams to own their home grounds are the Army, Navy, Air Force, KRL and Karachi Port Trust (KPT) and only in KPT are spectators allowed.
A serious problem for the players is that the 240 matches of the PPL are all played within a five month time-frame, with each team having to play 30 matches on a home-and-away basis.
Television coverage is non-existent and there is a lack of coverage in print and electronic media and crowds for matches where spectators are allowed number in the hundreds.
In Pakistan football lacks the mass appeal of cricket, but a similar venture in Afghanistan last year proved successful, attracting sell-out crowds and large television audiences.
Contact the writer of this story at This email address is being protected from spambots. You need JavaScript enabled to view it.