Details

Category: News
Published on Thursday, 25 July 2013 10:23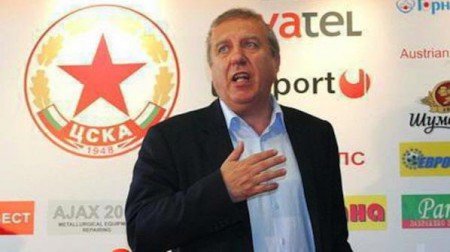 By Alexander Krassimirov
July 25 – Troubled Bulgarian club CSKA Sofia, who are under new ownership, have announced that there will be a salary cap for players and staff, reducing salaries to below last season's levels.
Alexander Tomov (pictured), said that the highest wages of the top players will be about 15,000 leva (€7,500) per month. He said he will be talking to new head coach Stoycho Mladenov in the next few days.
The salary cuts look likely to include Mladenov who has just returned to the club and will receive a wage 50% lower than he was paid in his previous stay at the club last year.
Mladenov and his staff - Anatoli Nankov, Stoycho Mladenov, Jr., Ilian Vassilev, Italian Rocco Perrotta, Biser Tzolov and physician Ivan Doychev will budgeted 60,000 leva (€30,000) per month for salaries. Rocco Perrotta will receive 8,000 leva (€4,000), and so will be the monthly payment for assistants Anatoli Nankov and Stoycho Mladenov., Jr.
One of the most experienced players of the team - defender Apostol Popov – has agreed to sign a contract at a much lower salary. Popov terminated his contract with the club before a month, but returned to the Bulgarska Armia stadium after the change of ownership.
Former Bulgarian internationals Emil Gargorov, Valentin Iliev and Stoyan Kolev, who also returned to the team, have similarly made huge compromises with their personal conditions.
It is expected funds that funds for salaries this season will fall by 20% compared to last year.
CSKA paid some of the highest wages in Bulgaria, alongside Levski Sofia, and Ludogorets Razgrad - who have been Bulgarian champions the past two seasons.
CSKA Sofia were paid wages on average of about €20,000 per month. The minimum wage (per month) in Bulgaria is 160 euros. However, many players went unpaid for months, which resulted in repeated protests by players with many former players suing the club for unpaid salaries.
On taking power, the new leadership of CSKA promised transparency. It is expected the club will make the players' wages public. Tomov has emphasised that there can be exceptions to the wage cap if the club can attract major names.
He also said that the club will petition for the rescheduling of debts to state institutions, which currently accounts for about 7 million leva (€3.5 million).
CSKA opened their championship campaign with a scoreless draw against Lokomotiv Plovdiv in front of 10,000 spectators at the Bulgarska Armia Stadium.
The pre-season has not been a smooth process with ownership issues spilling over into the running of the playing side of the club.
Mladenov was attacked and threatened by former club owner Kaloyan Stoyanov after the morning training session last Monday. The attack was prompted by a dispute over a foreign player who was brought in the team by Stoyanov, but who Mladenov had released.
Mladenov immediately alert the police and later Stoyanov was detained for 24 hours. Stoycho Mladenov and his staff also gave a statement to police.
After the brawl, Mladenov said that he feared for his life and most likely will employ bodyguards.
Contact the writer of this story at This email address is being protected from spambots. You need JavaScript enabled to view it.