Details

Category: Premier League
Published on Monday, 15 April 2013 11:30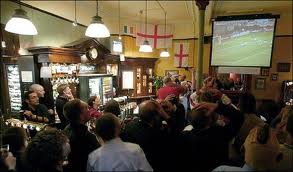 By Mark Baber
April 15 - The battle between Sky and BT, which has seen TV revenues for football reach record levels, continues with BT now significantly undercutting the prices Sky charges to pubs, using Sky's own platform.
Sky, who have held a dominant position in televised football for 20 years, including in the £300m market for supplying sports coverage for pubs, now face a serious rival in telcom giant BT, who the Murdochs will find a lot more difficult to see off than was the case with SkyDigital, United News and Media, ESPN and Setanta.
Pubs will be delighted that from the start of next season they will have a viable alternative to Sky and its aggressive pricing, which has seen pubs paying 'tens of thousands of pounds' per year for the right to show sports to their customers.
BT were only successful in winning the bidding for one Premier League package, so will be offering a significant discount on Sky pricing for their new sports channel, but bundling in rugby and other sports rights and even subsidising the cost of Sky boxes and satellites.
According to Sarah Simon, media analyst at Berenberg, speaking to the FT: "This is a very vulnerable profit stream because the revenues are so high-margin. Pubs will leap at some competition from BT because Sky increases the price so aggressively every year."
BT is focusing on the 20% of Britain's 50,000 pubs that currently show no sport and the 50% who only show terrestrial channels as well offering a far cheaper package for the third of pubs who show Sky Sports. BT has the rights to 28 games on Saturday lunch-time which could provide an attractive option, with rugby being shown during the week.
In the face of this competition, Sky, which still hold the rights to most of the 154 Premier League matches shown live each season, are reportedly offering discounted pricing to large pub chains for the first time.
Contact the writer of this story at This email address is being protected from spambots. You need JavaScript enabled to view it.