Details

Category: Premier League
Published on Monday, 09 September 2013 10:00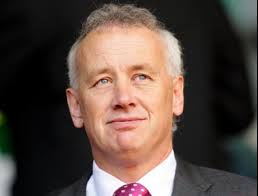 By Andrew Warshaw
September 9 - Former Premier League chief executive Rick Parry (pictured) has issued a damning indictment on the governance of English football saying the Football Association is too weak and antiquated and has been left behind.
Less than a week after new FA chairman Greg Dyke described the English game, which has failed repeatedly in major competitions despite enormous expectations, as "a tanker that needs turning" and set up a commission to investigate what's gone wrong, Parry said the FA itself was a large part of the problem.
The Premier League has not yet officially commented on Dyke's remarks but Parry, the Premier League's first ever chief exec who later occupied the same role at Liverpool and is now a consultant, didn't mince his words.
He is in no doubt where the blame lies over most of English football's ills.
"The FA has all the powers that it needs ... but is it fit to govern?" he asked. "Look at the issues of the last few years and the big issues in the game: financial fair play, club licensing, foreign ownership. When did we last hear a strong policy from the FA?
"They have tended to be silent on issues where you'd expect them to be taking the lead. They need to be bolder. They are the governing body but do they really want to govern?"
In a strongly-worded interview on BBC Radio, Parry continued: "You look at the big issues in recent years, where you would expect the FA to be taking a position where the FAs across Europe do, and I think ours has tended to be a little bit on the back foot and silent."
Parry said the FA's weaknesses were in stark contrast to the growth of the Premier League.
"They see themselves as perhaps being in second place now to the Premier League. We should not be trying to dumb down the Premier League. It's nothing to do with trying to reign that in, it's more a case of 'can the FA now pull itself up by its boot straps and catch up'?"
Describing the FA as having "an antiquated structure", Parry added: "The Premier League is lean and straightforward. If it wants to change a rule, it would have one meeting and if it gets a two-thirds majority it's done."
"With the FA you still have to go through a committee process from the board to council to shareholders. The Premier League is modernised and left the FA behind."
"There are some very smart people who work for the FA (but) there is a streamlining necessary. Greg has suggested a way forward and has established his commission. It's one thing to identify the issues, the real challenge is going to be identifying the solutions."
Contact the writer of this story at This email address is being protected from spambots. You need JavaScript enabled to view it.