Details

Category: Premier League
Published on Tuesday, 10 September 2013 13:43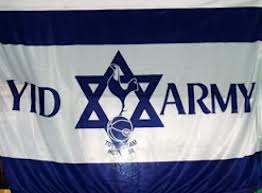 By Mark Baber
September 10 - The English FA are discouraging the use of the word 'yid' which derives from the Yiddish word for Jew, but which has been used in a derogatory and offensive way by anti-Semites. Despite the word's origin and its use as a badge of honour by Tottenham fans, the FA has said it "is likely to be considered offensive by the reasonable observer."
In its statement the FA reiterates that it is committed to promoting equality and inclusion in football and to confronting and eliminating discrimination of every kind.
The statement goes on to recognise that "language is a complex issue: the use and meaning of words is constantly evolving. This means that, over time, sometimes neutral words or phrases can come to be understood as offensive; and, similarly, words or phrases previously considered as offensive can become more acceptable."
The FA also recognises that "many minority communities have sought to reclaim historic terms of abuse such as this as a means of empowerment. The process of empowerment through reclaiming language is complex and can often divide opinion within the same community."
According to their statement, the FA "is aware that there are sections of fans at certain clubs who describe themselves using the term, or variants of the term, 'Yid'. Those fans claim that use of the term is a 'badge of honour' and is not intended to be offensive. "
However, the FA believes it is their duty "to send out clear messages about what is and what is not acceptable language within the context of football." The FA believes the use of the word 'Yid' is "liable to cause offence to others, whether Jewish or not," and the use of the term by fans may be "clouding the issue by making it harder to differentiate its use by these fans and by those who use the term in an intentionally offensive manner."
The FA also claims that the "use of the term in a public setting could amount to a criminal offence, and leave those fans liable to prosecution and potentially a lengthy Football Banning Order."
In November 2012, Tottenham fans who often chant 'Yid Army', and who have been trying to reclaim the term from racists, were told by Metropolitan Police that no action would be taken against the club as they agreed 'Yid' chants are not anti-Semitic.
The response of the Spurs crowd, at that time, was to chant: "We're Tottenham Hotspur, we'll sing what we want."
Contact the writer of this story at This email address is being protected from spambots. You need JavaScript enabled to view it.