Details

Category: Premier League
Published on Friday, 13 September 2013 11:59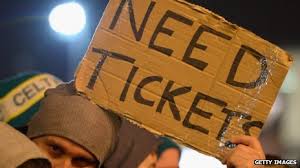 By Mark Baber
September 13 - A survey of clubs has found average ticket prices across English football's top four divisions have fallen by up to 2.4%. There remains a large differential between clubs, with Tottenham fans paying a minimum of £49.26 per match for a season ticket, programme, pie and tea - compared to just £24.34 for a Manchester City fan.
UK Sports Minister Hugh Robertson told the BBC, "It is good news for fans but it does come after a long period of incremental rises year on year,"
"The key thing is that it is replicated in years to come. I think clubs are beginning to understand what fans are going through and to adjust their prices accordingly."
The 2013 BBC Sport Price of Football Study looked at the five top leagues in England, four in Scotland and the Women's Super League, finding average prices for the cheapest and most expensive match-day and season tickets had all dropped.
In the top four English divisions, the cheapest adult season was down 2.4% on average, the most expensive fell 1.6%. The average for the cheapest adult match-day ticket is down 1.9% whilst the most expensive dropped around 1%.
Football League chairman Greg Clarke said the fall in ticket prices was "a case of clubs responding sensibly to declining living standards in what has been a challenging economic period." he said.
However, there has been a 4.3% rise in the average price of the cheapest season tickets in the Premier League, for which Malcolm Clarke, chair of the Football Supporters' Federation, said there was "no justification" given the new television deal.
Survey Highlights:
The most expensive ticket in English football remains at Arsenal, where a category A adult match-day ticket can cost up to £126. Their cheapest ticket is £26. In practice these tickets are usually only available for members.
The most expensive season ticket is £1,955, also at Arsenal, although this includes seven cup and European matches. On a per match basis, Tottenham is most expensive at £1,895.
The cheapest adult season ticket in the Premier League is £299 at Manchester City which is cheaper than Halifax Town or Aldershot Town of the Conference.
The average price for an adult match-day ticket in the Women's Super League is just £5.38.
Premier League: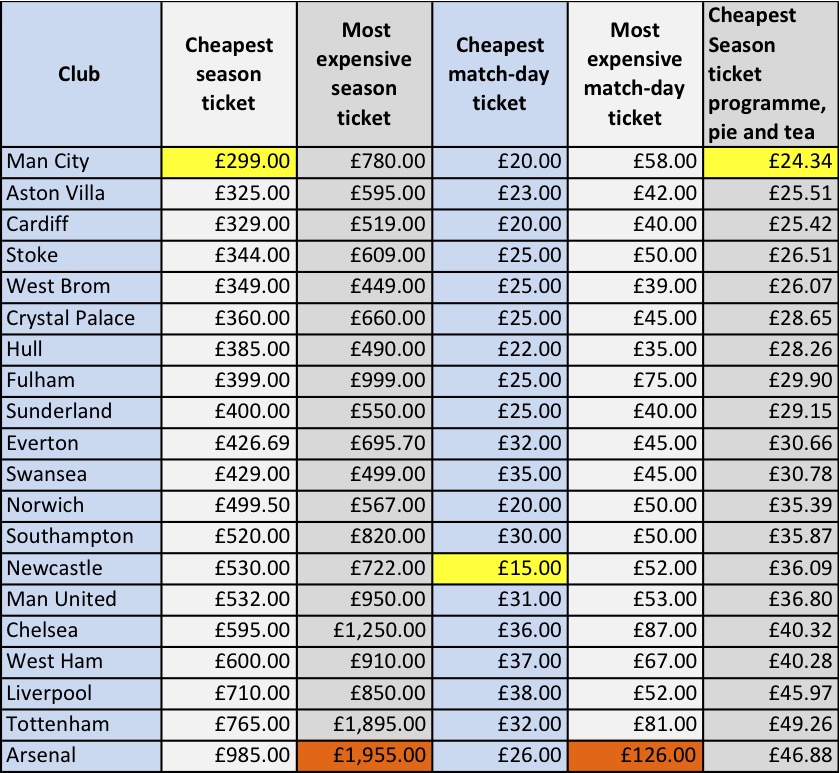 Source: 2013 BBC Sport Price of Football Study
Contact the writer of this story at This email address is being protected from spambots. You need JavaScript enabled to view it.