Details

Category: Premier League
Published on Monday, 30 September 2013 11:15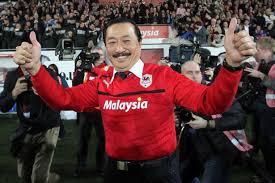 By Mark Baber
September 30 – Questions have been asked in the Malaysian parliament has about the £7.35 million sponsorship of Cardiff City by the Malaysian Culture and Tourism Ministry. Opposition MP Hee Loy Sian, revealed that the Malaysian taxpayer will stump up £3 million for the 2013/2014 Premier League season sponsorship of the Welsh club, owned by Malaysian businessman Vincent Tan (pictured).
Hee Loy Sian, from the centrist anti-corruption People Justice Party said: "The question is why Cardiff and not other Premier League sides? The ministry should be creative in promoting Visit Malaysia Year 2014 besides sponsoring the shirts and advertisements at the Cardiff stadium."
According to Hee: "The sponsorship will not attract long-haul tourists from the United Kingdom and Western Europe."
Defending the sponsorship, Tourism Minister Datuk Seri Nazri Aziz said 720 million people from all around the world would view the sponsored shirts on television, with 217,000 hours on television coverage involving 80 broadcast partners. "With the sponsorship, we will be able to make Malaysia as a 'Top of the Mind destination', targeting 28 million tourist arrivals," he said.
Hee claimed the tourism ministry's money would be better spent on helping local football clubs to bring them up to international standard.
Cardiff City is owned by billionaire businessman and philanthropist Vincent Tan who has pumped millions into the Welsh club, whilst posing a dilemma for the newly promoted club's fans, who are torn between the desire to see their club in the Premier League and attachment to their club's traditions, in particular the strip which has been changed by Tan from blue to red, for good luck.
Contact the writer of this story at This email address is being protected from spambots. You need JavaScript enabled to view it.