Details

Category: Premier League
Published on Tuesday, 05 November 2013 12:22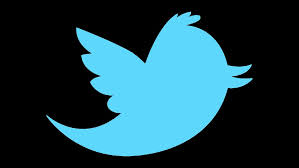 By Tom Parsons
November 5 - Arsenal celebrated their top of the league status on the field as well as enhancing it off the field after becoming the first sports team in the UK to reach 3 million Twitter followers.
The landmark was achieved during the Arsenal v Liverpool game, a game where Arsenal went 5 points clear at the top of the table.
Arsenal were proud to say they were the only club without a player who had more followers than them, until Mesut Ozil joined the club in September. The club announced the milestone by interestingly tweeting at the rather late time of 10:54pm saying"The @Arsenal Twitter account hit 3 million during #AFCvLFC. Thanks for making us the most followed PL team #Arsenal3m".
The tweet had 1,788 Retweets, which in the grand scheme of things is quite low compared to other tweets on the Arsenal twitter feed. The lateness of this celebratory tweet could be a reason for the lower retweets. With a large fan base in Asia, this tweet would have gone unnoticed by many adoring Gunners fans as it was sent in the early hours of their morning when many would have been asleep.
Arsenal's growth on Twitter has been a steady rise and the way the account gives an insight into usually very private club is one of the reasons why many fans are attracted to the account. With weekly #AskThePlayers (e.g. #AskOzil), the club brings life to the club through the Twitter account.
Another reason for Arsenal fans to be cheerful is the fact they have four times as many followers as bitter rivals Tottenham Hotspur. Their closest English rivals on the Twitter front are Chelsea, before there is a big drop off of over nearly a million followers to Liverpool (see tables below).
Although times have recently been tougher on the pitch for Manchester United, there was good news for them this week in the fact they leapfrogged their arch rivals Manchester City on the Twitter followers table. This has only taken them 3 months to achieve and their next task will ultimately be to chase Liverpool down - just like in the league! All three clubs have made a lot of press recently about the success of their multiple twitter accounts in multiple languages – aimed generally at the south-east Asian markets.
Hull have proved they can handle themselves in the Premier League this year but might have to prove a few doubters wrong on the social media table as they have the least followers at this moment in time.
The two biggest clubs globally on twitter are Spain's Barcelona and Real Madrid with 10,438 million and 9.342 million followers respectively. But perhaps more sobering for the self congratulatory English Premier League clubs is that if you add up all their twitter followers they are still a good few million short of Cristiano Ronaldo's 22.381 million.
Contact the writer of this story at
This email address is being protected from spambots. You need JavaScript enabled to view it.

Twitter growth over the month by club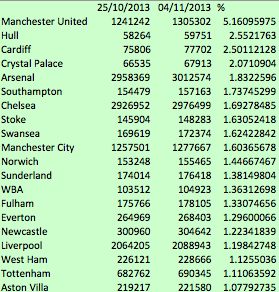 English Premier League twitter rankings