Details

Category: Premier League
Published on Thursday, 30 January 2014 13:25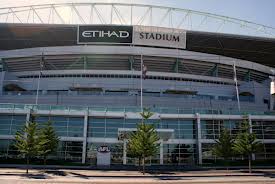 By Andrew Warshaw
January 30 - Manchester City may have surged to the top of the English Premier League but are the Abu Dhabi-backed big-spenders in danger of breaching UEFA's financial fair play (FFP) rules in order to achieve their ambitions?
According to new figures, City halved their annual losses to £51.6 million ($85.6 million) last season which will certainly please UEFA boss Michel Platini.
But the club, owned by the Mansour family, have now lost almost £150 million the past two years in an effort to become the best team in Europe.
FFP rules cap losses at a €45 million threshold for the two seasons between 2011 and 2013 in order to create a more level playing field. Clubs who do not comply could theoretically be thrown out of the Champions League.
Releasing their annual report for 2012-13, City made no direct reference to whether they would be able to meet the FFP rules.
"Growing revenues and controlled expenses are bringing the club to break-even in the immediate future and profitability thereafter," City chief executive Ferran Soriano said.
UEFA make allowances for factors like youth development and stadium infrastructure and it is not clear to what extent they would penalise clubs who fail to break even in the short term.
City said revenues rose to a record high of £271 million in 2012-13, a season in which they finished runners-up in both the Premier League and FA Cup.
The first FFP reporting period is due to end in May this year but City are understood to be confident they will not be sanctioned by UEFA. But it remains to be seen how UEFA, for example, will view City's £400 million sponsorship deal with Etihad.
Yet, the club have now paid off all their debts, which were £58 million a year ago, and chairman Khaldoon Al Mubarak said there was a "renewed sense of confidence for the future", with success on and off the pitch having generated "significant commercial opportunities for the organisation and underpinned a strong momentum for the years ahead".
Contact the writer of this story at This email address is being protected from spambots. You need JavaScript enabled to view it.