Details

Category: Qatar
Published on Wednesday, 05 February 2014 12:52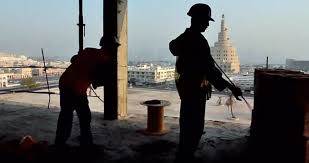 By Paul Nicholson
February 5 – The scale of the financial commitment the Qataris are making in providing in-country infrastructure as it builds towards the 2022 World Cup was made clear again yesterday with $205 billion to be spent in the period up to 2018, according to a senior figure at the state's largest bank.
The scale of the investment in the country's infrastructure dwarfs the sums being invested in Brazil for 2014 (est. $14.5 billion) and Russia for 2018 (est. $22.5 billion).
The question of whether money trumps the cost of human lives will come back into focus again next week. On February 12 Qatari World Cup organisers have to respond to FIFA's call to submit a report explaining what measures the Gulf emirate will take to improve the appalling conditions of its migrant workers. The following day the European Parliament conducts a hearing into the plight of the migrant workers. FIFA president Sepp Blatter will be present at the hearing.
For their part the Qataris have continually maintained that they are concerned about reports and that they are moving as fast as they can within the laws of their country to improve the situation. This has not stopped the relentless pressure of the labour unions, human rights organisations and media.
But neither has the Qataris unwaivering commitment to continue investing in their country and building towards 2022 been stopped.
Yusuf Saeed, acting head of global structured finance at Qatar National Bank, speaking at an infrastructure finance conference in Bahrain, said the government has been increasing its own spending as part of this push. The budget for fiscal 2013/4 is up 17.9% to 210.6 billion riyals ($57.8 billion), reported Reuters.
Saeed said that significant funding still needs to come from both local and international lenders: "For large projects, what we're seeing is you have conventional financing and Islamic financing and options for export credit agencies."
The Qatar Rail project is expected to cost around $45 billion with the contract for rolling stock alone estimated to be worth between $5 billion to $10 billion. Contracts to build the first phase, worth $8.2 billion, were awarded in June to companies including South Korea's Samsung C&T Corp and France's Vinci. The metro is due for completion in 2019.
Other notable projects include the 2400-megawatt Facility D independent water and power project - expected to cost upwards of $3 billion - and the Sharq road system, costing about $12 billion.
Contact the writer of this story at This email address is being protected from spambots. You need JavaScript enabled to view it.