Details

Category: Russia
Published on Friday, 01 November 2013 10:48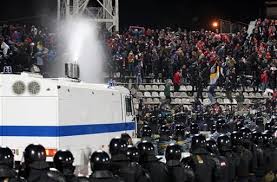 By Andrew Warshaw
November 1 - The image of Russian football, already battered by highly publicised instances of racism, has been shamed again, this time by a damaging outbreak of hooliganism that resulted in 78 Spartak Moscow fans being detained and a cup game temporarily suspended.
The incident at second tier club Shinnik Yaroslavl occurred on Wednesday, ironically just after Moscow rivals CSKA had part of their stadium ordered closed by UEFA as punishment for the racist abuse directed towards Manchester City's Yaya Toure in a recent Champions League tie.
The implications of the violence will not be lost on 2018 World Cup organisers who only this week met with FIFA secretary general Jerome Valcke to provide an update on tournament progress. Although both sides sought to accentuate the positive afterwards, the latest incident once again highlights the problems Russia is facing.
"Everyone now understands: if this mayhem created by the fans is not ended then it is going to be the end of football in our country," Russia's leading sports daily Sport Express declared. "Alas, we have got so accustomed to deviating from the norms of civilised society, that we no longer see, hear, or notice this. But it hits foreigners in the eyes."
Thousands of Spartak fans made the four-hour journey east of Moscow to Yaroslavl for a fourth round cup tie, setting off flares and throwing smoke bombs. Television pictures also showed one fan holding a Nazi banner.
In the second half fans clashed with anti-riot police, ripping out dozens of seats and hurling them on to the pitch. The referee suspended the game in the 53rd minute, restarting proceedings 20 minutes later when order was restored.
In a statement, Spartak sought to distance itself from any responsibility, saying security checks at the Shinnik stadium had been inadequate. "Our club cannot take on the role of the state. We cannot make arrests and put the criminals in prison," Russia's most successful club said.
Nikolay Trifonov, head of the interior ministry in the Yaroslavl region, countered: "We believe that it was a planned provocation. We have no complaints about the Shinnik fans, all the provocations came from Spartak fans."
Embarrassed Sports Minister Vitaly Mutko, who is leading Russia's 2018 preparations and is a FIFA executive committee member, condemned the violence and acknowledged it was now time to deal with the hard-core element of fans.
"They've been skating on thin ice for some time... It's clear that this alarms us," said Mutko. "Five or seven years ago we cleared this up a bit but now we are going backwards," he told the Interfax news agency.
The incident in Yaroslavl came despite Russia passing a new law that aims to heavily reduce hooliganism ahead of the World Cup. But the strict new regulations are not due to come into force until January.
Contact the writer of this story at This email address is being protected from spambots. You need JavaScript enabled to view it.