Details

Category: 2014 News
Published on Tuesday, 23 April 2013 12:57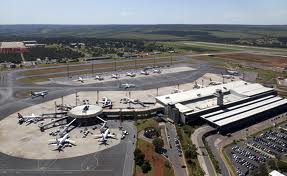 April 23 - Work upgrading the Juscelino Kubitschek International Airport in Brasilia has been guaranteed to be completed on time for the World Cup in June 2014, as negotiations for new retail concessions get under way.
The guarantee was given by the Inframérica Consortium, responsible for the airport's development. The airport's capacity is being expanded from 16 million to 41 million passengers with a third terminal being built and over R$ 750 million being invested before 2014.
Meanwhile, Inframérica is now entering direct negotiations to open more than 50 retail stores, restaurants, cafés and fast-food outlets. There will be space in the renovated airport for 23 shops featuring clothing, cosmetics and general goods and more than 30 dining options including a restaurant of at least 500 sq m. A promotional boxed set outlining all the options available has been issued to potential concessionaries.
Daniel Ketchibachian, commercial director of the Inframérica consortium said: "We want the best food & beverage and retail brands, and we have been talking with them for some months already to present the project."
"Our task has involved bringing in companies that are not used to working in airports in Brazil. Revenue from an airport store is greater than in shopping malls and all the major brands have shown enormous interest."
"Now the negotiations begin. We want to close all contracts by July this year."
Contact the writer of this story at This email address is being protected from spambots. You need JavaScript enabled to view it.