Details

Category: 2014 News
Published on Wednesday, 20 November 2013 12:12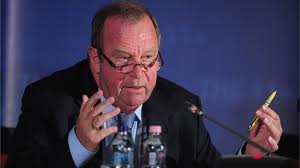 By Andrew Warshaw in Doha
November 20 - FIFA's leading medical expert has warned that anti-doping measures at next year's World Cup could be seriously compromised as a result of having to transport samples halfway round the world for testing.
FIFA last week announced that blood and urine samples from players competing in Brazil will have to be analysed thousands of miles away in Lausanne, Switzerland, after the World Anti-Doping Agency (WADA) confirmed that Rio's laboratory, which recently had its accreditation revoked, would not be up and running again in time for the World Cup.
Michel D'Hooghe (pictured), head of FIFA's medical committee, says the move could cause a logistical nightmare. "It's by no means ideal but we have no other choice," D'Hooghe, head of FIFA's medical committee, told Insideworldfootball. "It brings us obvious logistic problems and won't be easy."
The move will run up huge costs for anti-doping tests during the tournament. Blood samples, for instance, have to be tested within 36 hours to be valid and D'Hooghe says it will be a struggle to test samples before teams have to play their next games. His FIFA colleagues, he said, are "shocked" by the situation.
Speaking after an address to the Aspire4Sport conference here, d'Hooghe said: "When I told the FIFA executive committee about this, everybody was shocked. They asked how it was possible that a country organising the World Cup and the Olympic Games does not have an accredited laboratory."
The ludicrous move means that samples from the best players in the world will have to be loaded regularly on to planes for a time-consuming trip across the Atlantic. The LAD laboratory in Lausanne was mandated during this year's Confederations Cup for the handling of analysis for the biological profile of athletes. But the World Cup is different.

"Every sample will have to be first brought from the relevant match city to Rio or St. Paulo, then flown to Geneva and then taken on to Lausanne," explained d'Hooghe.
"The biggest problem is one of time. Normally we can always give a result before the team's next match. We'll hopefully manage to do it but it will be very, very tight."
"Do you think I am happy with this? I'm not going to get into attacking the people who are responsible for the fact that the local lab is not okay. But realistically there are only two or three others we could have used - Los Angeles, Cologne and Lausanne."