Details

Category: Brazil 2014
Published on Wednesday, 17 April 2013 13:54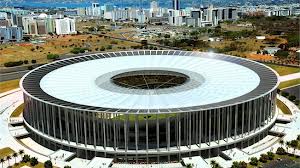 By Andrew Warshaw
April 17 - The stadium being used for the start of the Confederations Cup, the World Cup warm-up tournament, will only be officially opened a month beforehand.
The news is a blow to Brazilian authorities who have pledged that the country will stage a World Cup to remember, but have suffered delays and setbacks in the preparation – this being the latest.

According to reports, rain has delayed the laying of the Mane Garrincha pitch in Brasilia meaning a postponement until May 18 of the new $500m venue, one of 12 World Cup stadiums, being unveiled.


Brazil are due to play Japan there in the Confederations Cup opener on June 15. "Without the grass it would be like opening a theatre with no stage," Brasilia's World Cup secretary Claudio Monteiro said.

President Dilma Rousseff was scheduled to open the new 72,000-seater stadium on Sunday but contractors have not been able to drain the waterlogged ground in time.

Instead the opening will be a match between the finalists of the city's local championship, the first of two test events. The second is expected to take place in front of a full house on May 26 when Santos face Flamengo.

Last week FIFA general secretary Jerome Valcke, who has been trying desperately to get things ready in time, warned that Brazil's organisers faced cutting corners for the Confederations Cup in a manner which would be unacceptable for the World Cup next year.

Already the iconic Maracana stadium in Rio has provided World Cup organisers with a massive headache. Its refurbishment was supposed to have been completed in December but the date has been repeatedly pushed back. The first match in the stadium will feature Ronaldo, Romario and construction workers on April 27, behind closed doors.

Contact the writer of this story at This email address is being protected from spambots. You need JavaScript enabled to view it.