Details

Category: Brazil 2014
Published on Thursday, 25 April 2013 13:06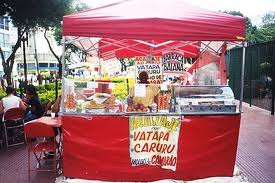 April 25 -

As World Cup 2014 nears, hype, rumour, misinformation and emotions is rising -are starting to raise a level – and nowhere more so than in Brazil itself.



FIFA has responded swiftly to accusations of "cultural terrorism" in Brazil and that they have interfered in the renaming of stadia and have banned street vendors from the vicinity of World Cup venues.
The conditions for hosting the World Club include an exclusion zone for street vendors of 2km around World Cup stadia. Accusations were that 'acarajé', a food traditionally sold by street vendors, mainly women, had been outlawed in the north-eastern city of Salvador. Acaraje is an African-Brazilian food made from black-eyed peas fried in palm oil and stuffed with a spicy filling. It has become a symbol of Brazilian food culture.
With McDonald's being a FIFA World Cup the implication was that all street food was being cleared in favour of the sponsor. In fact the opposite appears to be the case.
A FIFA spokesperson said: "FIFA is very sensitive to the issue of local products and local vendors and we have tried to find a solution in all previous FIFA World Cups. Furthermore, our FIFA World Cup Sponsor McDonald's is not providing the catering for the fans inside the stadiums..."
"We were fully aware of the acarajé issue and that's why we put it top on our list to be discussed with our food and beverage concessionaire. As a result we have reached an agreement that acarajé will indeed be sold inside the Fonte Nova stadium and your information regarding the baianas (the traditional sellers of acaraje) is not true. In fact they will be involved in the preparation and sale of the acarajés inside the stadium."
As a separate example of the so-called 'cultural terrorism'. Brazilian newspaper reports and bloggers have claimed that the great Brazilian player Mané Garrincha's name had been removed from the National Stadium in Brasília.
But as far as FIFA is concerned, Garrincha's name was never on the stadium.
The FIFA spokesperson said: "FIFA has never and will never tell any stadium owner how to name the respective stadium. As regards the FIFA World Cup and FIFA Confederations Cup, FIFA asks the host cities to communicate to us what names should be used worldwide (only in case of commercial names, irrespective of whether they are a FIFA sponsor, a change would be required as per the stadium agreement – examples are in Germany the Allianz Arena which was called Stadium Munich or in South Africa the Coca-Cola Park which was called Ellis Park during the event – but that does not mean the general name of the stadium was changed) .
"This processs is generally done four years ahead of the event - for Brazil it was completed end of 2010 - to ensure a consistency in creating international awareness of the stadiums and their names worldwide in the build-up of the event – particular for football fans to recognise the stadiums.
"In case of Brasilia, the host city submitted the name 'Estadio Nacional'. To date we have received no official request from Brasilia to alter the name which they submitted to FIFA in 2010. Should Brasilia make a request to change the name, FIFA and the Local Organising Committee would have to review this, however in theory we would have no issue with a stadium carrying the name of one of Brazil's greatest FIFA World Cup legends Mane Garrincha, who created with his incredible performances in 1958 and 1962 unforgettable moments for any football fan."
Contact the writer of this story at This email address is being protected from spambots. You need JavaScript enabled to view it.