Details

Category: Brazil 2014
Published on Monday, 06 January 2014 11:24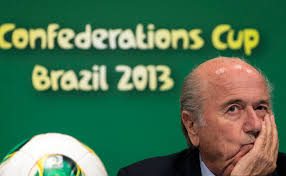 By Andrew Warshaw
January 6 - FIFA president Sepp Blatter has revealed the full extent of Brazil's lack of World Cup preparations with an unprecedented blast at this year's hosts. As FIFA's December 31 deadline for the 12 World Cup stadiums to be ready came and went with half of them still behind schedule, Blatter criticised the organisers by declaring no host had ever been as far behind at this stage in his 38 years with football's world governing body.
Blatter has witnessed nine World Cups since he first joined FIFA and in an interview with the Swiss publication 24 Heures, he was asked whether host nations always understood the enormity of the project.
"No. Brazil has just found out what it means and has come to realise that they started work much too late," he responded. "No country has been so far behind in preparations since I have been at FIFA even though it is the only host nation which has had so much time - seven years - in which to prepare."
Although the five-time champions have not staged the World Cup for over half a century, preparations have been hindered by all manner of infrastructural delays and political bickering, as well as the tragic deaths of a number of construction workers.
This is not the first time that Blatter or his secretary-general Jerome Valcke have expressed their anxiety about preparations. Organisers have insisted everything will be in place by the opening match in Sao Paulo on June 12 but Blatter's remarks were the strongest so far.
The street protests during last summer's Confederations Cup, mainly over the inadequacy of public services but timed to gain maximum publicity, are still fresh in the minds of FIFA officials and at last month's World Cup draw Blatter made a point of appealing to the people of Brazil to come together during the month-long jamboree.
He acknowledges that more demonstrations could take place but believes protestors will not target matches themselves because of how much the game means to Brazil.
"I am an optimist not a pessimist so I am not worried," Blatter said at the weekend. "But we do know there will again be manifestations, protests. During the World Cup the protests will perhaps be more concrete, more organised. But I also believe the football will be safe, I do not believe that Brazilians will attack the football directly. For them, it's a religion."
Blatter was also asked in the Swiss interview whether he had given any further thought to standing for a fifth term as president next year when he will be 78. Not for the first time, he gave a somewhat teasing answer, keeping his cards close to his chest, but didn't rule it out.
"I cannot answer with a Yes or a No but simply state that I do not feel tired enough to say that I will not stand."
Contact the writer of this story at This email address is being protected from spambots. You need JavaScript enabled to view it.