Details

Category: Brazil 2014
Published on Friday, 24 January 2014 10:46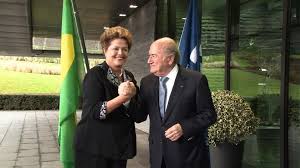 By Andrew Warshaw
January 24 - Two days after one of Brazil's 12 World Cup stadia learned it may have to be scrapped from the schedule because of construction delays, Brazil's leader Dilma Rousseff and FIFA president Sepp Blatter presented a joint charm offensive following a courtesy meeting at FIFA headquarters in Zurich.
Despite the threat to Curitiba, which was given a February 18 deadline to put its house in order or risk being excluded, Blatter said all that was needed were "a few touch ups".
Blatter was critical of Brazil earlier this month, publicly declaring he could not remember any World Cup host having fallen so far behind in their preparations.
To what extent he and Rousseff discussed the crisis in private was not disclosed but after inviting Brazil's president to Zurich, diplomatic protocols prevailed at a joint news conference.
"Brazil is the country of football and there is no better country than Brazil when talking about football," Blatter said. "So Brazil is going to organise a very beautiful World Cup, a great World Cup, and confidence reigns.
"And now, there are a few months to go, and there will have to be a few touch ups but this is normal for a World Cup. I am used to World Cups. There is no problem. At the end of the day, everything will be in order, everywhere in Brazil."
Airports, stadiums and public transport are huge problems as Brazil prepares to host the tournament for the first time since 1950.
Blatter and Rousseff both read statements in which they discussed initiatives to combat racism, promote peace and strengthen women's football in Brazil. But they largely avoided going into detail on the issues regarding World Cup preparations.
"We are prepared," said Rousseff. "We are going to put on the Cup of Cups, and we are going to do so in the country of football.
"Stadiums are relatively simple things to build. We are sparing no effort into building stadiums, airports and ports to enable Brazil to welcome visitors with open arms.
"We are prepared to organise the World Cup of World Cups and use the power of football to tackle key matters and leave an important social legacy."
Contact the writer of this story at This email address is being protected from spambots. You need JavaScript enabled to view it.