Details

Category: Qatar 2022
Published on Saturday, 16 November 2013 18:24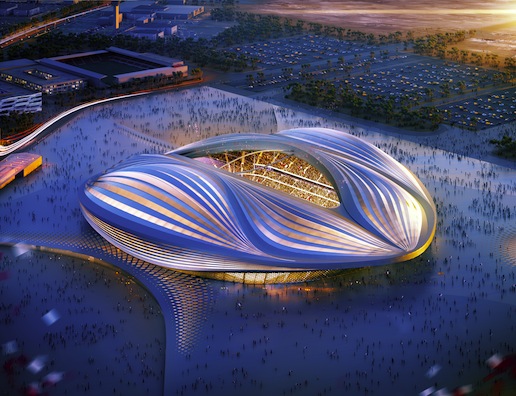 By Andrew Warshaw in Doha
November 16 - Their World Cup bid campaign message, still seen emblazoned across parts of the capital even though it is now almost three years after the vote, was 'Expect Amazing'. Having achieved their goal of being awarded the event, Qatar's 2022 organisers have come up with a new, updated logo, 'Expect Delivery'. Nine years out from hosting the tournament, officials today unveiled their first stadium design and promised to make sure the workers who construct it will be safe from injury.
Located approximately 15 kilometres south of Doha, the proposed Al Wakrah stadium will be the southernmost venue, built in the shape of a traditional Arabian dhow with a capacity of 40,000 and the top two tiers modular in order to allow the venue to be halved in size for both domestic use and transportation purposes after the event.
Al Wakrah - famous for its fishing and seafaring heritage - has served as a vital commercial port and a gateway to the capital throughout Qatar's history.
Hassan Al Thawadi, the secretary general, Qatar 2022 Supreme Committee told a news conference the announcement - which coincided with the Aspire4Sport conference - would be the first in an upcoming series of initiatives as organisers enter the early phase of "delivering the promises we made to FIFA and the international football community during the bid."
"The stadium reflects what our country stands for from a cultural perspective," he added. "It is modern, futuristic and functional. But importantly, it remains true to Qatari heritage with the design and materials inspired by the traditional dhow boat."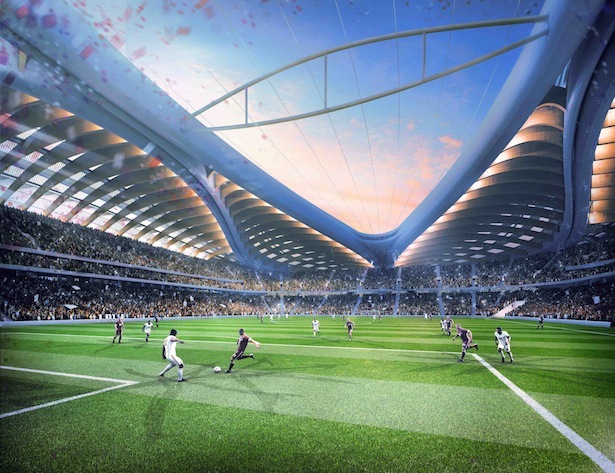 "We are at an advanced stage in our planning. Al Wakrah is the first of six stadiums already in the latter stages of the design process. Our committee has issued ten major tenders to the market encompassing project and design managers and stadium-operation consultants."

Work on Al Wakrah is due to start next year, with all stadiums ready for completion by 2020.
Although FIFA may not have made up its mind on an exact time of year to stage 2022 until after construction work on Al Wakrah has started, the Qataris are pressing ahead with their expensive, revolutionary cooling technologies even though they may not be needed for a winter tournament.
Using a holistic design - incorporating shading, aerodynamic and mechanical cooling components - a natural grass pitch will be cooled to an optimal 26 degrees Celsius and shaded spectator stands cooled to between 24 and 28 degrees.
With so much emphasis currently on labour rights in Qatar following reports of the treatment of migrant workers, including many deaths, Al-Thawadi was inevitably asked about plans for safety at World Cup construction sites.
"We are implementing a worker welfare standard into our projects - a worker welfare charter as well as a standard - as a continuation of the number of initiatives the government is already undertaking," he said.
"In relation to that what we are doing is creating a number of standards that our contractors have to comply with; these standards have been taken from Qatari law.
"There are mechanisms provided within these standards to which will be imposed on all our contractors to ensure that they maintain the highest degree of safety and security, providing the health and dignity of every person working on any of the projects relating to 2022."
"For us any number [of deaths] above zero is unacceptable and we are working to make sure that stays that way. "
Later, speaking to reporters, Al-Thawadi said Qatar would not shirk its responsibilities in tackling the controversial kefala system that gives employees scant labour rights and has been a source of fierce debate in recent weeks.
"You can see for a fact that there are results on the ground, steps being taken and the wheels are in motion (to moderate the system)," he said.
"The fact that the current kefala system is under review by the council of ministers is a simple reflection of the fact that there are systems that need to be changed. Some of these systems were developed at a different time in Qatar's life. Today, like any law, any legal system anywhere in the world, as circumstances change and as events change the law develops and evolves itself."
Contact the writer of this story at This email address is being protected from spambots. You need JavaScript enabled to view it.